Supporting Occupational Health Care on the Move
Leading Occupational Health Service Provider IDC Uses Transportable Carestream Detectors to Provide Services Throughout the UK
GENEVA, March 10 — Industrial Diagnostics Company (IDC) is a leading Occupational Health firm based in Leicestershire that provides robust health surveillance programmes for clients throughout the UK. This includes mobile screening services for employees exposed to respirable crystalline silica (RCS). RCS dust is known to cause silicosis in workers exposed to it — a potentially serious medical condition that can relate to both current exposure and exposure that occurred many years previously.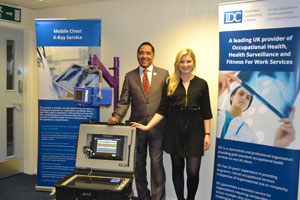 Wayne Sharpe, Senior Account Manager at Carestream, and Nickie Percival, Imaging Services Manager at Industrial Diagnostics Company with the DRX Transportable system.
The Health and Safety Executive advises that companies provide health surveillance for silicosis for their workers in high-risk occupations. This includes those working in construction, foundry, brick and tile work, ceramics, slate, manufacturing, quarries and stonework. While controls in dust exposure at work have improved in recent years, many workers remain exposed to RCS at a level where health surveillance is still required. The only effective method for early detection of silicosis is a chest X-ray.
To enable on-site delivery of its mobile chest X-ray service, IDC purchased a CARESTREAM DRX 1 Transportable System / Field Portable with wireless digital detector and portable X-ray tube as well as a CARESTREAM Vue PACS with native reporting.
The CARESTREAM DRX Transportable System / Field Portable is a rugged, all-in-one solution that is ideal for the sorts of situations IDC works in. It includes a wireless detector, electronics, wireless access point and a tablet PC, all packed in a sturdy, portable carrying case. The lightweight, wireless DRX Detector included enables the user to capture and view images immediately at the point of patient care — even in confined spaces.
'Many of the sites we visit are inaccessible to standard vehicle-mounted X-ray units, so the DRX Transportable is ideal,' comments Nickie Percival, IDC's Imaging Services Manager. 'It is designed for military use in the field so it is robust, easily transported and efficient in set up and use. Chest X-ray images are acquired on site and brought back to the base PACS for reporting. The subsequent report is then distributed and clinically managed according to the results. The use of the CARESTREAM PACS and the DRX transportable enables us to provide a high quality digital chest X-ray service, with a fast turnaround from exam to results at the required client location. It is the perfect solution for the service we require.'