Orthopaedic Imaging at UnityPoint Health – Meriter Drives Need for Fully Featured Digital X-ray Rooms
Five Mobile X-ray Systems Deliver Rapid Access to Images for ED, OR, NICU, ICU and General Radiology Patient Exams
ROCHESTER, N.Y., March 8 — UnityPoint Health – Meriter (Madison, Wis.) installed two CARESTREAM DRX-Evolution Plus Systems (video) as part of an upgrade designed to enhance and expedite diagnostic imaging for orthopaedic and general radiology patients at the 448-bed hospital.
These digital X-ray rooms are used to perform joint, extremity, hip, spine and other exams for Meriter-based orthopaedic specialists as well as surgeons from the University of Wisconsin who use the hospital's surgical suites.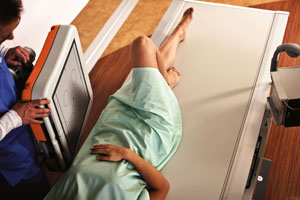 One room is designed for ease of use with patients on carts that need chest X-rays and the other room handles cross-table work using the upright Bucky. Both imaging systems have a wall stand on a rail with a removable wireless CARESTREAM DRX Plus 3543 detector and a wireless CARESTREAM DRX Plus 3543 detector that is used in the table Bucky and for tabletop exams.
"The moveable wall stand with a Bucky-angulation feature expedites cross-table, lateral spine and other complex orthopaedic exams," said Rose Knoll, the hospital's Manager for General Diagnostic, Fluoroscopy and Mammography Imaging. "This system's design and ease of use allow our technologists to efficiently capture orthopaedic imaging studies for pre- and post-operative patients."
The DRX-Evolution Plus system offers an autotracking feature that moves the X-ray tube into position to help reduce fatigue and repetitive stress injuries for technologists. A remote control lines up the X-ray tube to either Bucky to further streamline the imaging process.
A third DRX-Evolution system installed in the ED performs a variety of trauma and general diagnostic exams including lower extremities, chest, abdomen and spine. Use of a grid holder on the table expedites capture of cross-table hips and other exams using the upright Bucky.
The radiology department has five CARESTREAM DRX-Revolution Mobile X-ray Systems that deliver rapid access to diagnostic images in the ER, OR, NICU, ICU and other nursing units. Carestream's advanced software enhances visualization of tubes and lines from the original images so physicians can verify placement. Surgeons are pleased with the ability to view high-quality images in seconds in the operating room when implanting hardware or checking vertebral location for spine cases.
CARESTREAM DRX 3543 detectors are used with all of the portable imaging systems, and two small-format CARESTREAM 2530C detectors also are used for imaging in the ER and NICU.
Carestream will demonstrate its ability to enhance and expedite orthopaedic imaging exams at the AAOS (American Academy of Orthopaedic Surgeons) meeting and exhibit that begins March 14 in San Diego, Calif.
###
About UnityPoint Health – Meriter
UnityPoint Health – Meriter provides comprehensive, coordinated care to patients in the Greater Madison area through our clinics, hospital and home care services. Meriter offers primary and specialty care, including heart and vascular, orthopedics, women's health, and is home to the busiest birthing center in Wisconsin. In 2016, Meriter earned an overall 5-Star quality rating from the Centers from Medicare and Medicaid (CMS), was named a 100 Top Hospital ® by Truven Health Analytics™ and won an Outstanding Patient Experience Award™ from Healthgrades. For more information, visit www.unitypoint.org.