Leading Canadian Community Hospital Purchases 11 Carestream Digital X-ray Systems
New Room and Mobile DRX Systems Selected Based on Ease of Use, Advanced Features and Reliability
ROCHESTER, N.Y., Oct. 3 — Scarborough and Rouge Hospital (SRH) in Toronto, Canada, purchased 11 CARESTREAM digital radiography systems (video) as part of an upgrade from computed radiography to digital radiography (DR) at its General and Birchmount sites.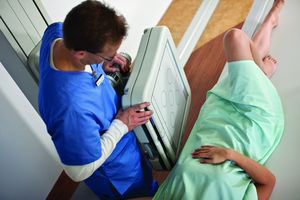 The hospital's diagnostic imaging management team conducted a thorough evaluation of existing imaging systems to determine which ones needed to be replaced and which were candidates for retrofitting to DR.
During the first stage of upgrades, a CARESTREAM DRX-Evolution system was installed at the Birchmount site to service the emergency department and outpatient clinics. The hospital then purchased three CARESTREAM DRX-Revolution Mobile X-ray systems and converted two portable systems to DR with CARESTREAM DRX-Mobile Retrofit Kits. The third stage involved upgrading five X-ray rooms across both sites with Carestream DRX detectors and software.
"We conducted site visits to evaluate systems from several suppliers. Radiology managers, technologists and radiologists were involved in the evaluation to ensure the equipment we selected would deliver ease of use, faster image access and outstanding reliability along with consistently high image quality," said Tom Jackson, Director of Diagnostic Imaging Services at SRH.
Carestream DRX systems capture X-ray images at outpatient clinics, inpatient units, operating rooms, critical care units and emergency departments at the Birchmount and General sites.
"Selecting a single vendor standardizes operations and makes it faster and easier for our technologists to capture imaging exams at different areas of the hospital and among different facilities," he adds.
Mr. Jackson also notes that image quality and image display are consistent across all sites, which helps radiologists deliver an accurate diagnosis.
One of the team's top priorities was the ability to move any DRX detector to any DRX system. "This interoperability allows us to share detectors among systems and ensures maximum uptime. These detectors are extremely reliable, but if one is dropped or inoperable for any reason, we know we can continue imaging patients and delivering the highest quality of care," Mr. Jackson said.
###
About Scarborough and Rouge Hospital
At Scarborough and Rouge Hospital (SRH), a quality patient experience comes first. Affiliated with the University of Toronto, SRH consists of three hospital sites (Birchmount, General and Centenary) and five satellite sites in Scarborough. SRH delivers a broad spectrum of health services to one of the most diverse communities in Canada, including a full-service Emergency Department at each site, advanced maternal and neonatal care in state-of-the-art birthing centres and specialized paediatric services. SRH is home to a number of regional programs serving the central east Greater Toronto Area and beyond, including nephrology, cardiac care, vascular surgery and vision care, and is recognized as a centre of excellence in orthopaedic surgery, cancer care and mental health. For more information visit https://www.tsh.to/ or www.rougevalley.ca.