Large Orthopaedic Practice Selects Carestream Digital Radiography Rooms for State-of-the-Art Specialty Center
Company's DRX-Evolution Plus Systems Offer Autotracking that Boosts Productivity, Reduces Risk of Repetitive Stress Injuries
ROCHESTER, N.Y., Sept. 7 — Summit Orthopedics (Woodbury, Minn.) purchased four CARESTREAM DRX-Evolution Plus systems (video) for its new comprehensive orthopaedic center in Eagan, Minn. The systems are installed in the 65,000 square foot clinical, surgery and treatment center and were purchased through NXC Imaging of Minneapolis, Minn. Summit Orthopedics has 32 locations in the greater Minneapolis area.
The automated DRX-Evolution Plus systems capture hundreds of high-resolution images a day and offer advanced features, ease of use and excellent image quality. Specialists at the comprehensive orthopaedic center perform knee, hip and shoulder arthroscopy and replacements, advanced spine procedures, ACL repair and reconstruction, and surgical correction for rotator cuff tears and fractures along with other orthopaedic surgeries.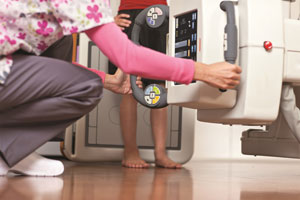 "In addition to capturing images of joints, we also perform long-length exams, scoliosis studies, weight-bearing images and complex cross-table exams," said Jill McClintic, Director of Clinical Operations for Summit Orthopedics. "These systems produce extremely high-quality images that are required for orthopaedic imaging and deliver enhanced ergonomics for radiologic technologists."
Carestream's autostitching software joins up to five images to produce long-length images required by specialists. The DRX-Evolution Plus system also offers an extended tube column that equips technologists to conduct standing weight-bearing exams of the foot and ankle and provides more flexible positioning for other exams, according to McClintic.
An autotracking feature moves the X-ray tube into position to help reduce fatigue and repetitive stress injuries for technologists. "Our technologists appreciate the ability to program the system and then push a button to capture an image. In a high-volume facility like ours, automation plays a vital role in obtaining high-quality images while preventing injuries to our staff," she explains.
Summit's DRX-Evolution Plus system is equipped with a fixed CARESTREAM DRX Plus 4343 detector in the wall stand and a DRX Plus 3543 detector for use in the table Bucky and for tabletop exams. Carestream DRX detectors can be used with any DRX system to help deliver flexibility and productivity. Carestream's table has a four-way floating top and lowers to a height of about 21 inches, which is helpful for imaging ill or injured patients.
Carestream also offers its OnSight 3D Extremity System that captures high-quality, low-dose 3D images including weight-bearing exams. Being able to capture 3D images onsite allows orthopaedic specialists to diagnose an injury and discuss treatment options with their patients in a single visit.
###
About Summit Orthopedics
Summit Orthopedics is privately owned and managed, with 50 highly trained orthopedic specialists teamed with 125 supporting providers such as physician assistants, therapists, and certified athletic trainers. For more than 30 years, Summit has provided a range of conservative and progressive care options for musculoskeletal conditions for patients across the Twin Cities, throughout Greater Minnesota and beyond. This includes prevention, surgical and non-surgical treatment, and rehabilitation. Summit employs about 850 people at 32 locations throughout Minnesota.