Illinois Hospital, Affiliated Imaging Centers Install Nine Carestream DR Systems to Deliver Rapid Image Access, Excellent Image Quality
Hospital-based Orthopaedic Clinic Provides X-rays for Pre-Operative, Post-Operative Surgical Patients
ROCHESTER, N.Y., Dec. 5 — St. Margaret's Health (Spring Valley, Ill.) installed three CARESTREAM DRX-Evolution Plus and DRX-Evolution systems (video), four CARESTREAM DRX-Ascend Systems and two CARESTREAM DRX-Revolution Mobile X-ray Systems to provide high-quality diagnostic imaging in a rural community 70 miles north of Bloomington, Ill.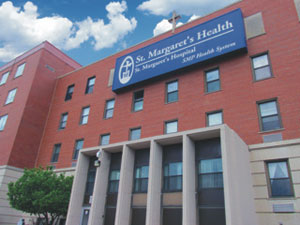 The hospital and its affiliated outpatient and urgent care clinics began converting to digital radiography several years ago to achieve improved image quality, higher staff productivity and rapid image access for physicians.
"We conducted an evaluation as part of our transition to DR and selected the DRX-Evolution as our first room-based DR system due to its image quality, advanced features and ease of use," said Karen Gress, the hospital's Vice President of Ancillary and Support Services. "And when we retired one of our portable CR units, we replaced it with a DRX-Revolution system that offered a dramatic improvement over other portable DR systems."
Specialists at the hospital's busy orthopaedic clinic require rapid access to high-quality X-ray images for pre-operative and post-operative surgical patients.
"Technologists use a DRX-Evolution in our orthopaedic clinic to capture extremity images for up to 40 patients a day and one DRX-Revolution is dedicated to capturing pre- and post-operative orthopaedic exams," said Lauri Thompson, the hospital's Diagnostic Imaging Supervisor.
Technologists and physicians appreciate Carestream's software that automatically stitches images together for long-length studies, Ms. Thompson adds.
A DRX-Evolution Plus system captures exams in the hospital's primary X-ray room and a DRX-Evolution performs general radiography exams in an adjacent room. One-third of the hospital's exams are conducted with mobile X-ray systems that capture inpatient images requested by physicians. A DRX-Revolution captures extremity and other types of exams in the ER, and another DRX-Revolution is used for portable exams that include morning rounds and verification of PICC line and tube placements.
Four DRX-Ascend systems are located at two urgent care clinics, a remote outpatient clinic and a hospital-based clinic.
Both Ms. Gress and Ms. Thompson agree that selecting Carestream was a good decision. "We are extremely pleased with the performance of Carestream's room-based and portable imaging systems. These systems are reliable, offer advanced features and expedite the imaging process," Ms. Gress notes.
"Staff members appreciate the ability to use any DRX detector with any of our DRX imaging systems, and Carestream's service and support has been excellent," Ms. Thompson adds.
Carestream's DRX Plus detectors are thinner and lighter than other detectors to provide easier handling and have an IPX 57 water-resistance rating that can enhance longevity.
###
About St. Margaret's Health
St. Margaret's Health has been a premier provider of healthcare in the Illinois Valley since 1903. Our sponsors, the Sisters of Mary of the Presentation, the Board of Directors, Administration, the Medical Staff and everyone at St. Margaret's are unified in our focus to provide patients and their families with high quality, compassionate care. We combine advanced technology with our friendly, knowledgeable staff to deliver local healthcare services. For more information visit www.aboutsmh.org.