Columbus Regional Health Installs DRX-Evolution Plus Imaging System
Platform's Advanced Features Can Enhance Productivity, Speed Image Access While Improving Patient Comfort
ROCHESTER, N.Y., Jan. 11 — Columbus Regional Health (Columbus, Ind.) installed a CARESTREAM DRX-Evolution Plus (see video link) as part of an expansion that doubled the size of its emergency department, which hosts more than 47,000 patient visits a year. The new imaging system has a wall stand on a rail with a fixed detector while a wireless DRX Plus 3543 Detector is used in the table and for tabletop exams.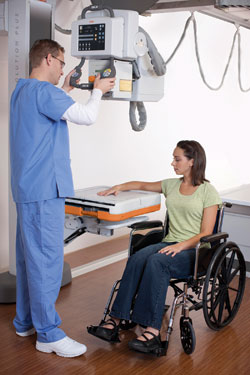 "The moveable wall stand with a Bucky-angulation feature expedites cross-table and other complex exams and reduces the need to move patients who are seriously ill or injured," said Bill Algee, the hospital's Radiology Manager. "This system's design and ease of use allow our technologists to efficiently capture imaging studies that can equip physicians to deliver responsive diagnosis and treatment."
He adds that being able to lower the table reduces movement of fragile patients.
The new DRX-Evolution Plus also offers an autotracking feature that moves the X-ray tube into position to help reduce fatigue and repetitive stress injuries for technologists. "A remote control lines up the X-ray tube to either Bucky to further streamline the imaging process," he explains.
The department also purchased a small-format CARESTREAM DRX 2530C detector, which helps enhance quality and reduce dose for extremity and pediatric exams as well as images captured in the operating suites. "Being able to use any DRX detector in any DRX system is a tremendous advantage and we appreciate the flexibility and redundancy it provides," Algee reports.
The hospital previously installed a CARESTREAM DRX-Revolution Mobile X-ray System for portable imaging and retrofitted an existing mobile imaging system and a general radiology room with Carestream DRX detectors.
###
About Columbus Regional Health
Columbus Regional Health is a health system serving a 10-county region in southeastern Indiana. The health system contains more than 2,100 employees, 225 physicians on medical staff and 250 volunteers. Columbus Regional Hospital, the system's flagship facility, is a not-for-profit, 225-bed facility that provides emergency and surgical services as well as comprehensive care in numerous specialty areas. Columbus Regional Health Physicians offers a network of primary and specialty care physicians. Columbus Regional Health recently expanded and renovated its Cancer Center and doubled the size of its Emergency Department as part of its commitment and mission to improving the health and well-being of the community it serves. For more information visit www.crh.org.