Colorado Hospital Upgrades X-ray Systems to Enhance Care For Residents, Tourists
Carestream Digital Imaging Systems Help Physicians Assess Patients to Determine if They Require Advanced Treatment at Larger Hospitals
ROCHESTER, N.Y., April 19 — Estes Park Medical Center (Estes Park, Colo.) recently upgraded its diagnostic imaging department with high-resolution portable and room-based digital radiography systems (video) from Carestream Health. The hospital also has CARESTREAM Vue PACS for enterprise image management and medical images from all modalities are stored on a CARESTREAM Vue Archive.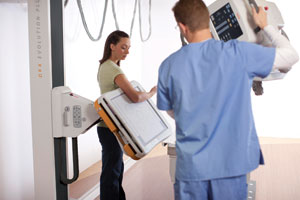 This critical access hospital is just minutes from the main entrance to Rocky Mountain National Park, where stunning scenery and abundant wildlife draw more than 4 million visitors a year from around the world. The hospital treats patients for altitude sickness, hiking accidents and lightning strikes as well as heart attacks, pulmonary embolisms and a variety of conditions and diseases.
"Our goal is to quickly and accurately assess patients to determine if we can treat them here or if they need to be transported to larger hospitals in the area. Digital radiography systems allow physicians to view high-quality X-ray images in seconds and make decisions that help achieve the best outcome for our patients," said Brigitte Foust, Director of Diagnostic Imaging, Estes Park Medical Center.
As part of the equipment upgrade that converted the hospital from computed radiography to digital radiography, Foust and her staff evaluated offerings from major imaging suppliers and chose Carestream for its mobile and room-based digital imaging systems.
"Carestream's imaging systems offer advanced features and imaging software capabilities as well as ease of use. We also prefer the enhanced image quality and lighter weight offered by Carestream's DRX Plus detectors," Foust reports.
A CARESTREAM DRX-Revolution Mobile X-ray System captures portable imaging studies for ER and OR patients as well as inpatients. The staff uses CARESTREAM DRX Plus detectors in 25 x 30 cm and 35 x 43 cm sizes. The portable X-ray system also offers software features that help physicians verify positioning for tube and line placements, according to Foust.
A fully automated CARESTREAM DRX-Evolution Plus system with a fixed wall stand and elevating table captures cross-table, spine, abdomen, long-length, scoliosis and other types of imaging studies. A motorized overhead tube automatically tracks detector movement for fast source-to-detector alignment, which reduces fatigue and repetitive stress injuries for technologists. A remote control lines up the X-ray tube to either Bucky to further streamline the imaging process.
The staff retrofitted its existing radiography/fluoroscopy system with a CARESTREAM DRX Plus 3543 detector to deliver rapid access to patient images.
###
About Estes Park Medical Center
Estes Park Medical Center is a 25-bed critical access hospital with a 24-hour emergency department, 24-hour advanced life support ambulance service, medical/surgical services, obstetrics, and home health and hospice services. Emergency air transport services are available from our healthcare associates in the Colorado Front Range communities. The hospital has served the Estes Valley and surrounding areas since 1975, and is designated as a Level IV Trauma Center. It is a community-initiated and community-nurtured organization dedicated to promoting wellness and providing the highest level of quality health care for our patients. For more information visit www.epmedcenter.com.