ROCHESTER, N.Y., March 2 — Carestream will demonstrate its CARESTREAM OnSight 3D Extremity System (Video) that uses cone beam CT (CBCT) technology to capture high-quality, low-dose 3D extremity exams at the American Academy of Orthopaedic Surgeons (AAOS) annual meeting and exhibit being held March 14-18.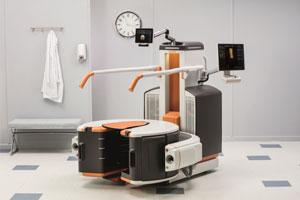 "This affordable system offers excellent 3D image quality and provides the ability to view weight-bearing exams of lower extremities under normal load conditions," said Helen Titus, Carestream's Worldwide Marketing Director for X-ray & Ultrasound Solutions. "Orthopaedics is a major focus for Carestream because of the prevalence of musculoskeletal conditions among people of all ages."
Carestream is shipping its OnSight 3D Extremity System in the United States, Europe and other countries.
Unlike traditional CT systems, the CBCT system has a large-area detector that can capture a 3D image of the patient in a single rotation, which takes only 25 seconds. The compact OnSight system can be plugged into an electrical outlet in an exam room.
Resurgens Orthopaedics (Atlanta, Ga.) evaluated several extremity CT systems, according to John R. Gleason, M.D., the company's Co-President.
"We were looking for an extremity imaging system that offered a large field size, excellent image quality and the ability to perform weight-bearing exams. After testing Carestream's OnSight 3D Extremity System for several months, we verified that Carestream excelled in all these areas and purchased the system," Dr. Gleason reports.
Capturing 3D images onsite allows specialists to review the exam and conduct a patient consultation in a single visit, according to Lisa Hecht, X-ray Manager at Resurgens Orthopaedics, which has 21 sites and almost 100 physicians.
"This streamlined process maximizes productivity for our orthopaedic specialists and offers greater convenience for patients by eliminating the need to travel to another facility for a 3D imaging exam," Hecht reports. "Even more importantly, radiologists and orthopaedists are extremely impressed with the image quality offered by this system."