Carestream Showing New Mobile X-ray System with Carbon Nanotube Technology at AHRA
DRX-Revolution Nano Mobile X-ray System Will Offer Reduced Size and Weight
ROCHESTER, N.Y., June 20 — Carestream Health will show its latest innovation in medical imaging—the CARESTREAM DRX-Revolution Nano Mobile X-ray system (pending FDA 510(k) clearance)—at the upcoming AHRA conference (Booth #321). The new system will use carbon nanotube technology to deliver significantly reduced size and weight when compared to existing mobile X-ray systems.
"We dramatically changed the mobile X-ray imaging market with the DRX-Revolution Mobile X-ray system, and we are now debuting the next generation of mobile X-ray systems that will offer important productivity and ergonomic advantages," said Jianqing Bennett, Carestream's President of Digital Medical Solutions.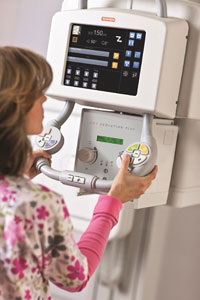 The DRX-Revolution Nano system will use carbon nanotube technology in a lighter weight, non-motorized system that will be easy to move and position, even in cramped critical care areas. The new system is designed to include:
Carbon nanotube technology and an advanced lithium iron phosphate battery that contribute to longer life and a weight of approximately 200 pounds;

A sleek design with enhanced visibility both over and around the system;

A compact footprint that will make it easy to maneuver and position in tight spaces; and

Independent controls of the diaphragm without moving the tubehead.
In addition to Carestream's history of innovation, the company also offers a comprehensive portfolio of mobile and room-based imaging systems to address the varying needs and budgets of healthcare providers.
"Detectors that deliver access to high-quality digital images and wireless communication of images have revolutionized radiology workflows," Bennett reports. "In response to customer feedback, Carestream has continuously expanded its detector portfolio with small and large-format detectors, as well as newer families of DRX Plus and DRX Core detectors that can meet the needs of healthcare facilities of all sizes."
The company also will showcase: its ability to assist facilities that are transitioning from CR to DR with a comprehensive portfolio of mobile and room-based DR systems and retrofit capabilities ; the CARESTREAM Touch Ultrasound System that maximizes image quality and offers an ergonomic design; and the CARESTREAM OnSight 3D Extremity System that uses cone beam CT technology to capture 3D weight-bearing extremity images.
Carestream also will spotlight the addition of imaging analytics software to its CARESTREAM Clinical Collaboration Platform that can improve early detection rates for many conditions. For example, this software can calculate liver density from a CT chest or abdomen study to detect a fatty liver; identify emphysema by detecting levels of trapped air in the lungs from a non-contrast CT chest study; and determine levels of coronary calcium from non-contrast CT chest studies in addition to assessing bone density.