Carestream's Self-Service Kiosk Equips Patients to Print or Share Radiology Reports, Medical Images at Point of Care
ROCHESTER, N.Y., July 6 — Carestream Health is shipping its MyVue Center Self-Service Kiosk that is designed to enhance patients' ability to access and manage their medical imaging exam records. Patients may use the kiosk to print or share radiology reports and output their medical images onto CARESTREAM DRYVIEW Medical Laser Imaging Film or a USB drive.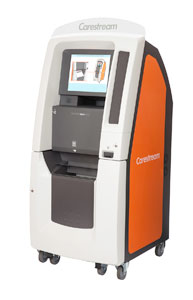 This product is currently available in France, Mexico, Argentina, Brazil and Colombia, with other countries to follow.
MyVue Center will offer benefits for both patients and healthcare facilities. Patients will gain rapid, convenient access to their medical exam information by utilizing a secure method of identification to obtain their medical images or radiology reports.
The self-service kiosk will enable healthcare providers to enhance productivity and reduce operating costs by automating distribution of medical images and radiology reports to patients. The system is available on a monthly rental payment plan.
Facilities that integrate MyVue Center with Carestream's MyVue patient portal will enable patients to share access to their medical images and reports with physicians, friends or family members. Patients will be able to view and share their medical images and radiology reports from a variety of Web-enabled devices including laptops, tablets and mobile phones, or from a healthcare provider's EMR portal.