Carestream Receives Innovative Technology Designation From Vizient for Its Touch Prime Ultrasound Systems
Designation Recognizes Products that Bring Improvements to the Healthcare Industry
ROCHESTER, N.Y., Nov. 20 – Carestream Health announced its CARESTREAM Touch Prime Ultrasound Systems (video) have received a 2017 Innovative Technology designation from Vizient, Inc., the largest member-driven healthcare performance improvement company in the country. The designation was based on direct feedback from hospital experts who interacted with the Touch Prime Ultrasound Systems at the Vizient Innovative Technology Exchange in Denver, Colo.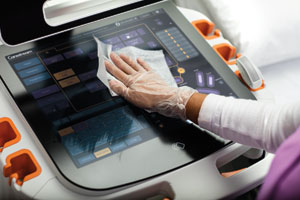 Carestream's Touch Prime platform includes a sealed touch console that can be quickly and easily cleaned to help reduce the spread of pathogens for patients and sonographers. It also offers a customizable user interface that boosts productivity, a swipe-and-go badge reader and adjustments that accommodate all scanning positions. Powerful GPUs offer rapid processing and a quick cold boot time eliminates the need for a battery.
"Our advanced ultrasound systems deliver enhanced ease of use and productivity while an innovative sealed console protects patients and sonographers from the spread of disease," said Dan Monaghan, Carestream's Regional Business Manager for Ultrasound Systems in the U.S. and Canada. "Our ultrasound platform also offers ergonomic adjustments that can help reduce the risk of injuries to sonographers."
"After reviewing feedback on the Touch Prime Ultrasound Systems at our Innovative Technology Exchange, members agreed this solution deserves the Innovative Technology designation status. The designation will be noted in our online member contract catalog. Congratulations to Carestream on receiving this status," said Debbie Archer, director of procurement and Vizient Innovative Technology Program lead.
Vizient represents a diverse membership base that includes academic medical centers, pediatric facilities, community hospitals, integrated health delivery networks and non-acute healthcare providers and represents more than $100 billion in annual purchasing volume. Through its Innovative Technology Program, Vizient works with member-led councils and task forces to review potentially innovative products. If it is determined that a product is innovative, Vizient may award a contract outside of the competitive bid cycle.