Carestream Health Receives New Innovative Technology Contract for Its OnSight 3D Extremity Imaging System
Carestream Health announced it has received an Innovative Technology contract from Vizient, Inc., for its CARESTREAM OnSight 3D Extremity System.
ROCHESTER, N.Y., DATE – Carestream Health announced it has received an Innovative Technology contract from Vizient, Inc., for its CARESTREAM OnSight 3D Extremity System. Vizient is the largest member-driven health care performance improvement company in the country. The contract was based on a recommendation of Carestream's OnSight 3D Extremity System by hospital experts with expertise in this category who serve on one of Vizient's member-led councils. Innovative Technology contracts are reserved for technologies that demonstrate an ability to enhance clinical care or patient safety, and those that improve an organization's care delivery and business model.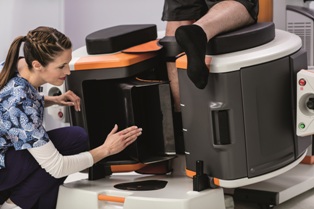 The OnSight 3D Extremity System performs high-quality, low-dose 3D extremity exams using cone beam CT (CBCT) technology. In addition to being compact and easy to install, it captures high-quality 3D images including weight-bearing exams of lower extremities under normal load conditions. Unlike traditional CT systems, the CBCT system has a large-area detector that can capture a 3D image of the patient in a single rotation, which takes only 25 seconds.
"This three-year contract will allow Vizient members the ability to streamline workflow and productivity by capturing onsite 3D exams, making a diagnosis and discussing treatment options with patients in a single visit," said Helen Titus, Carestream's Worldwide Marketing Director for X-ray & Ultrasound Solutions. "This workflow is also more convenient for patients and can result in faster diagnosis and treatment."
"Due to the number of products and services being released and marketed as 'innovative,' member hospitals truly value the thorough innovative technology review process in place at Vizient to help them identify products worth further evaluation at their own facilities," said Debbie Archer, director of procurement and leader of Vizient's Innovative Technology Program for suppliers. "After a full review of the OnSight 3D Extremity System, Vizient's member council agreed this solution offers unique and incremental benefits over other products available on the market today, and recommended it for an Innovative Technology contract. We are pleased to award this new contract to Carestream Health."
Vizient, Inc., represents the combined strengths of the organizations formerly known as VHA Inc., University HealthSystem Consortium, Novation and MedAssets' Spend and Clinical Resource Management. Since 2003, nearly 2200 new and innovative products and technologies have been submitted through the Innovative Technology Program. Vizient works with member-led councils and task forces to identify and review potentially innovative products. If it is determined that a product is innovative, a contract may be awarded outside of Vizient's competitive bid cycle.