Carestream Earns 2017 KLAS Category Leader Award for Global PACS in Asia/Oceania Region
KLAS Awards Based on Feedback from Thousands of Healthcare Providers
ROCHESTER, N.Y., Jan. 31 — Carestream Health has again earned top ratings from healthcare IT and radiology professionals across the globe for its CARESTREAM Vue Radiology PACS (see video link), according to KLAS, an independent research organization that monitors healthcare vendor performance. KLAS named Carestream as the 2017 Category Leader for Global PACS in Asia/Oceania region.
The 2017 Best in KLAS awards are based on user scores compiled from the feedback of thousands of healthcare providers at clinics, hospitals and local, regional and national healthcare systems.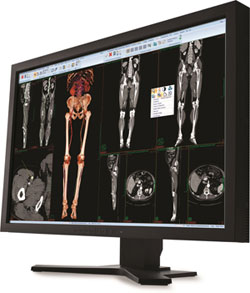 "The KLAS ranking is an important validation from healthcare providers in dozens of nations that have recognized us as a leader in global PACS technology," said Ludovic D'Aprea, Carestream's General Manager for Healthcare Information Solutions. "We have devoted significant research and development funding to create our Vue Radiology PACS that addresses the diverse image management, sharing and storage needs of healthcare providers worldwide."
KLAS has a global reputation for accurately and impartially measuring vendor performance. The company's reports represent the combined opinions of people from provider organizations comparing how vendors, products and/or services performed when measured against the participant's objectives and expectations.
Carestream's Vue Radiology PACS manages, stores and shares medical images and radiology information at some of the world's largest and most respected local, regional and national healthcare systems. It provides a single intuitive workspace for the clinical tools and applications physicians and radiologists need for fully featured diagnostic reporting. Carestream's newest native Vue Reporting module presents interactive hyperlinks to critical images and automatic inclusion of quantitative analysis in the form of easy-to-understand comparison tables and charts, which oncologists and referring physicians prefer. Easy access to both images and data can equip physicians and specialists with a more holistic view of each patient's condition and can help enhance the process of communicating diagnostic and treatment decisions to patients.
Vue Radiology PACS is an element of Carestream's Clinical Collaboration Platform that also offers: archiving and diagnostic tools for radiology and cardiology; administrative tools for remote care and teleradiology; clinician and patient portals; healthcare information exchange; business intelligence and clinical analytics. This enterprise imaging solution can be implemented onsite or as a cloud-based service.
###
About KLAS
KLAS is a research firm on a global mission to improve healthcare delivery by enabling providers to be heard and counted. Working with thousands of healthcare professionals and clinicians, KLAS gathers data on software, services and medical equipment to deliver timely reports, trends and statistical overviews. The research directly represents the provider voice and acts as a catalyst for improving vendor performance. To learn more about KLAS and our reports, visit www.KLASresearch.com.