York Teaching Hospital NHS Foundation Trust Improves Workflow with Carestream PACS
HEMEL HEMPSTEAD, August 8 — York Teaching Hospital NHS Foundation Trust has installed a CARESTREAM Vue PACS system, networked across their York and Scarborough sites. The solution includes Carestream Vue PACS, Carestream Vue Motion, Carestream Lesion Management, Carestream MyVue and Carestream Power Viewer, together providing enterprise-wide review, data management, distribution and archiving. The system gives clinicians and radiologists at the Trust the clinical tools and applications they need to enable convenient local and remote reporting, in a single workspace.
"We are delighted with our new Carestream PACS, which has provided us with enhanced functionality and improved our workflow," says Dr Dan Petty, Consultant Radiologist with the Trust. "Carestream have been very capable partners, responding rapidly to our queries and requests."
The new system is helping support the Trust to provide acute hospital and specialist healthcare services to the 800,000 population it serves around York, North Yorkshire, North East Yorkshire and Ryedale.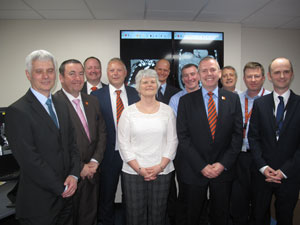 (l-r) Dave Johnston, Installation Manager, York Teaching Hospital; Andrew Robson, Sales Specialist, Carestream; Jason Barron, Sales Manager, Carestream; Jonathan Atkinson, Account Manager, Carestream; Sue Rushbrook, Director of Systems and Network Services; Dr Dan Petty, Consultant Radiologist; Andrew Bertram, Finance Director (all from York Teaching Hospital); Charlie McCaffrey, Managing Director, Carestream UK; Steven Mackell, Directorate Manager; James Haselden, Clinical Director, Radiology; Thomas Skidmore, PACS Manager (all from York Teaching Hospital)