Carestream Demonstrates New Touch Prime Ultrasound Systems at American Institute of Ultrasound in Medicine Convention
ROCHESTER, N.Y., March 10 — Carestream showcased its new CARESTREAM Touch Prime and Touch Prime XE Ultrasound Systems at the American Institute of Ultrasound in Medicine (AIUM) convention being held March 17-21. Both premium systems are designed for general diagnostic imaging use in radiology. A Health Canada license is pending.
"We have seen strong demand for our new ultrasound systems in the United States and Europe. Our advanced ultrasound systems can deliver better views of moving anatomical structures and equip sonographers and clinicians to gain improved visualization of small structures and contrast differences in tissue," said Helen Titus, Carestream's Worldwide Marketing Director for X-ray & Ultrasound Solutions.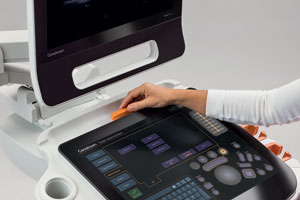 Carestream's Touch Prime and Touch Prime XE systems employ Carestream's advanced SynTek Architecture, which simultaneously provides enhanced spatial detail with increased frame rates for improved visualization of moving structures while optimizing image formation to reduce noise and artifacts.
Carestream's architecture is a significant step forward from serial line-by-line acquisition of conventional systems. By combining information independently obtained from multiple transmissions, the new architecture synthesizes a transmit beam that is narrow not only at a single point or region in the image but over the entire spatial area, which leads to higher image quality.  
Imaging and Doppler improvements allow for more consistent visualization of subtle tissue contrast differences and can improve the ability to see small structures. These systems also deliver uniform lateral resolution over the entire depth and deeper penetration for imaging of the abdomen and other areas.
Carestream offers specialized transducers for radiology, OB/GYN, musculoskeletal and vascular imaging. A direct transducer interface to the ultrasound processing board delivers lower noise and higher image quality, and four transducers can be connected simultaneously to any of the system's four ports. A novel single touch of a button on the transducer allows freezing, storing and printing of images.
The Touch Prime XE is capable of frame rates in excess of 100Hz while maintaining enhanced imaging detail, and includes optional features such as a DICOM package, barcode and RFID badge readers. Wireless connectivity provides rapid image transfers to PACS, RIS and other systems. An integrated gel warmer delivers added convenience and patient comfort.
The Touch Ultrasound platform's design is based upon recommendations by sonographers and ultrasound professionals across the world. These systems have earned praise for a sealed, all-touch control panel that combines the speed and flexibility of a soft user interface with the tactile feedback of traditional keys. Etched marking for primary controls equips the user to easily locate key functions without looking away from the image display monitor.