SSM Health Hospital is One of First in U.S. to Install New DRX-Evolution Plus Imaging System
Carestream System's Advanced Features Can Expedite Complex X-ray Exams, Help Reduce Repetitive Injuries to Technologists
ROCHESTER, N.Y., April 5 — SSM Health St. Joseph Hospital - Lake Saint Louis (Mo.) is one of the first hospitals in the United States to install a new CARESTREAM DRX-Evolution Plus to enhance the imaging process for its emergency department patients. The hospital's radiology team installed a wall stand on a rail with a fixed DRX detector while a DRX Plus 3543 Detector is used in the table and for tabletop exams. The hospital's X-ray room is located adjacent to the emergency department, which has more than 42,000 patient visits a year.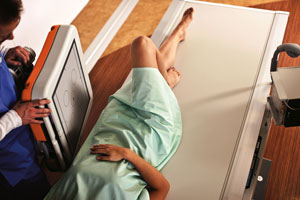 "Installing a new DR room is a long-term commitment and we needed a system that would combine advanced imaging capabilities with ease of use. With the DRX-Evolution Plus, we are able to image patients more efficiently, reduce dose and improve image quality. This system helps us achieve our goal of enhancing patient care," said Jamie Rapp, the hospital's Team Leader for Diagnostic Imaging.
"Now seriously ill or injured patients can be imaged in wheelchairs or on stretchers, which eliminates the painful process of moving them to the table. And having the wall stand move along the rail with a Bucky-angulation feature expedites cross-table and other complex X-ray exams," she said. "Technologists also benefit because the system's autotracking feature moves the X-ray tube into position to help reduce fatigue and repetitive stress injuries."
Other process improvements include automated user log in by scanning of RFID badges and the ability for technologists to view images and change techniques on a tube touch screen.
The hospital previously installed a CARESTREAM DRX-Revolution Mobile X-ray System with a DRX-1 Detector for general radiography and a high-resolution, small-format DRX 2530C cesium iodide detector for use in the hospital's NICU.
An existing imaging system was also retrofitted with a DRX-1 detector. "We appreciate the ability to move DRX detectors between these imaging systems if needed. This allows us to continue imaging if a detector is dropped or damaged," according to Rapp. "Carestream also offers protection plans that make it affordable for us to replace detectors if needed."
###
About SSM Health St. Joseph Hospital – Lake Saint Louis
SSM Health (www.ssmhc.com) is a Catholic, not-for-profit health system serving the comprehensive health needs of communities across the Midwest through one of the largest integrated delivery systems in the nation. SSM Health St. Joseph Hospital – Lake Saint Louis is a 122-bed hospital specializing in women's health and maternity services. The hospital is designated by the Joint Commission as a Primary Stroke Center and a Level II Trauma Center. Becker's Hospital Review named SSM Health St. Joseph Hospital – Lake Saint Louis as one of the 100 great community hospitals in 2015. For more information, visit us at www.ssmhealth.com/lakestl or find us on Facebook and Twitter.