Palmetto Health Baptist Installs Two Carestream Touch Prime XE Ultrasound Systems
ROCHESTER, N.Y., Oct. 5 — Palmetto Health Baptist (Columbia, S.C.) recently installed two  CARESTREAM Touch Prime XE Ultrasound Systems to capture radiology, OB/GYN, vascular, pediatric and interventional imaging studies conducted at the hospital and its trauma center.
This 413-bed hospital is a member of Palmetto Health, one of the largest integrated healthcare systems in South Carolina. Carestream personnel trained 14 sonographers as part of the implementation.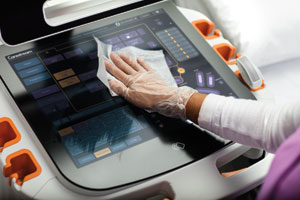 Carestream's Touch Prime XE Ultrasound System (video link) offers a highly productive workflow as well as excellent ergonomics, ease of use and high-resolution images. The platform's design is based upon recommendations by ultrasound professionals. The system is fully adjustable to accommodate all scanning positions to help reduce ergonomic injuries—and the swipe of a badge activates each sonographer's preferences and presets.
The system offers rapid access to images and eliminates time-consuming manual tasks that are required with older ultrasound systems. Carestream's proprietary Smart Flow Imaging visualizes blood ­flow in all directions, independent of imaging angle. Smart Flow Assist technology, which is available on the Touch Prime XE system, can automatically and continually update beam steering, gate position and angle correction—even when the transducer is moving. This expedites access to images by eliminating the need for repeated manual adjustments by the sonographer.
Carestream's Touch Prime XE system also employs the company's advanced SynTek Architecture, which simultaneously provides enhanced spatial detail with increased frame rates for improved visualization of moving structures while optimizing image formation to reduce noise and artifacts. The Touch Prime XE is capable of frame rates in excess of 100Hz while maintaining enhanced imaging detail. 
This new platform's sealed all-touch control panel is designed without buttons, knobs or keys, which enables sonographers to perform a rapid, thorough cleaning in seconds and helps limit the spread of pathogens.
###
About Palmetto Health
Palmetto Health, the largest healthcare system and one of the largest employers in South Carolina, is comprised of more than 12,000 team members, physicians and volunteers working together to fulfill Palmetto Health's vision: to be remembered by each patient as providing the care and compassion we want for our families and ourselves. The system includes seven acute-care hospitals—Baptist Easley, Palmetto Health Baptist, Palmetto Health Baptist Parkridge, Palmetto Health Children's Hospital, Palmetto Health Heart Hospital, Palmetto Health Richland and Palmetto Health Tuomey—as well as an expansive physician practice network, dozens of affiliated clinics and specialty care practices and a 501(c)(3) foundation. Recognized nationally as one of the best places to work and receive care, Palmetto Health also trains the next generation of physicians through its 23 residency and fellowship programs affiliated with the University of South Carolina School of Medicine. For more information, visit www.PalmettoHealth.org or call 803-296-2273.