OSF Saint Francis Medical Center Installs Carestream Digital X-ray Systems in Hospital, Ambulatory Care Centers
ROCHESTER, N.Y., Sept. 20 — OSF Saint Francis Medical Center (Peoria, Ill.) and two of its affiliated ambulatory care centers have installed four CARESTREAM DRX-Evolution systems, two CARESTREAM DRX-Revolution Mobile X-ray Systems and five CARESTREAM DRX-Mobile Retrofit Kits to help ensure rapid access to high-quality diagnostic images. The 609-bed hospital is a major teaching affiliate of the University of Illinois College of Medicine at Peoria and is a flagship hospital for OSF HealthCare.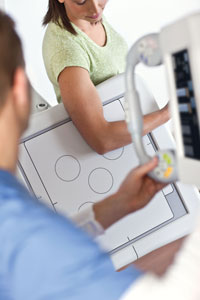 The DRX-Evolution systems are vital tools in helping physicians and specialists assess and treat patients at the hospital's ambulatory centers in Peoria and Washington, Ill., according to Debbie Heinz, Radiology Manager for Ambulatory Diagnostic Services.
"Each center has an imaging system with the wall stand mounted on a rail to facilitate capturing cross-table exams as well as bending exams used to detect and treat scoliosis and other conditions," said Heinz. "The wall stand has a fixed CARESTREAM DRX Plus 3543 Detector while a removable detector captures table and tabletop exams."      
She notes that the system's autopositioning feature and remote control expedite image access while eliminating the need for technologists to manually move the X-ray tube into position for each exam. "Moving the overhead tube can cause repetitive stress injuries so this is an important advantage for our staff. Carestream's new DRX Plus detectors are also lightweight and easy to get into and out of the Bucky, which is an important benefit," Heinz explains. 
The Peoria ambulatory center has two DRX-Evolution systems and performs approximately 1,100 exams a month, while the Washington facility has one DRX-Evolution room and performs approximately 400 exams a month.
At OSF Saint Francis Medical Center, DRX-Revolution systems and DRX-Mobile Retrofit Kits equip the staff to deliver rapid access to high-quality images in its emergency department, operating suite, pediatric, neonatal intensive care and inpatient areas. A DRX-Evolution located in the emergency department captures exams for pediatric and other urgent care patients.
###
About OSF Saint Francis Medical Center
OSF Saint Francis Medical Center, with nearly 300 employed physicians, 6,000+ employees and 609 beds is the fifth-largest medical center in Illinois. A major teaching affiliate of the University of Illinois College of Medicine at Peoria, it is the area's only Level I Trauma Center, which is the highest level for trauma care. It serves as the resource hospital for emergency medical services for North Central Illinois, and is home to Children's Hospital of Illinois and the Illinois Neurological Institute. OSF Saint Francis and Children's Hospital have achieved Magnet Status for excellence in nursing care since 2004. Learn more at www.osfsaintfrancis.org.