Orthopaedic Specialists Evaluate Financial, Patient Care Benefits of Carestream's Cone Beam CT System
Affordable, Compact CBCT System to be Shown at Annual Meeting of the American Association of Orthopaedic Executives
ROCHESTER, N.Y., May 17 — Carestream representatives will describe the benefits of its CARESTREAM OnSight 3D Extremity System that uses cone beam CT (CBCT) technology to capture weight-bearing and other types of extremity exams at the American Association of Orthopaedic Executives (AAOE) conference that begins on June 9.
This affordable, compact CBCT system—which is pending FDA 510(k) clearance—is intended to offer high-quality, low-dose 3D imaging for orthopaedic practices. 
"Our CBCT system is designed to allow orthopaedic practices to capture high-quality 3D extremity imageshigh-quality, low-dose 3D imaging for orthopaedic practices.
 and conduct a patient consultation in a single visit," said Helen Titus, Carestream's Worldwide Marketing Director for Ultrasound & CT Solutions. "This capability is extremely attractive to orthopaedic specialists because performing 3D imaging exams on-site delivers greater patient convenience while offering the ability to generate additional revenue."
She adds that showing patients a 3D image that illustrates their condition or injury can help them understand the reason for a treatment or surgical procedure—and accept the specialist's recommendation.   
Titus also notes that capturing 3D and weight-bearing images can be a competitive advantage for an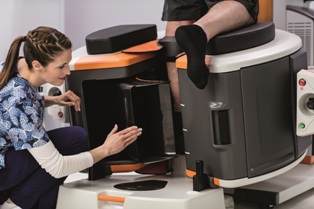 orthopaedic practice. "When this system is available, orthopaedists may decide to market their practice's ability to deliver greater patient convenience by eliminating the need to go to another facility for a 3D imaging exam," she explains.    
Orthopaedics is a major area of focus for Carestream because of the prevalence of musculoskeletal conditions among people of all ages.
 "Our CBCT scanner has the potential to become a non-invasive tool to evaluate a host of orthopaedic conditions that affect the biomechanical behavior of the joints, such as arthritis, meniscus loss, instability and malalignment syndromes," Titus reports.
                                                                        ###
About the American Association of Orthopaedic Executives (AAOE)
Founded in 1969, AAOE is the premier practice management association serving the musculoskeletal industry. Membership includes more than 1,300 orthopaedic practice executives, administrators, surgeons, and their staff. AAOE is dedicated to providing education, community, and resources to set the standard for professional knowledge and industry insight. For more information, visit www.aaoe.net.