Large California Hospital Deploys 11 Portable Digital Radiography Systems to Deliver Rapid Image Access
Special Software Features Help Physicians Care for Critical Care Patients
ROCHESTER, N.Y., July 13 — Huntington Hospital (Pasadena, Calif.) has installed nine CARESTREAM DRX-Revolution Mobile X-ray Systems, retrofitted two existing portable systems with DRX Plus 3543C detectors and purchased a small-format DRX 2530C detector for use with neonatal patients.
These high-quality imaging systems help enhance care for patients in its emergency department, operating suites, intensive care unit and neonatal intensive care unit. Staff members at the 625-bed hospital used other portable DR imaging systems prior to standardizing on the DRX-Revolution platform.
"The DRX-Revolution systems deliver high-resolution images that can help our physicians quickly and accurately assess and treat acute care patients, as well as inpatients who require bedside exams," said Ranilo Blasco, the hospital's Manager of Radiology. "We standardized on these systems because of the platform's innovative design and its ability to deliver excellent quality images as well as reliability and maneuverability."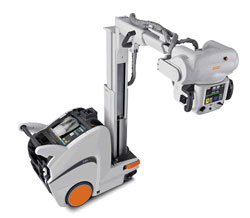 Two DRX-Revolutions capture more than 2,300 exams a month in the hospital's busy emergency department. Dedicated DRX-Revolutions serve the imaging needs of the hospital's six operating suites, intensive care unit and neonatal intensive care unit, while the remaining units perform inpatient exams throughout the hospital. The hospital performs more than 150,000 imaging exams a year.
Staff and physicians in all of these areas are extremely pleased with the system's performance, according to Blasco. "Technologists in the operating suites are able to position the unit so surgeons can view images either on the tube monitor or the console without moving away from the patient."
Carestream's software provides a companion image that delivers optimized visualization of tubes and lines. "Physicians use these images to help position tubes and lines for seriously ill or injured patients and to detect pneumothorax. Because the companion image is created from the initial image, we do not need to capture multiple X-ray exams of these patients," Blasco explains.
"Converting from CR to DR has not only improved image quality, it also has lowered the dose required to obtain an excellent image. This is especially important for our ICU and NICU patients, so we have installed cesium detectors in these areas to deliver the lowest dose possible while maintaining extremely high-quality imaging," he adds. 
In addition to being faster and lighter than previous detectors, Carestream's new DRX Plus detectors offer features designed to help users achieve higher productivity, improved image quality and lower dose. In addition, these detectors can be submerged in one meter of water for 30 minutes without failure, which achieves IPX Level 7 rating for liquid resistance and the IEC standard 60529. A reduced weight and thinner profile allow even easier handling.
The new detectors offer: faster calibration time, boot time, preview time and full-resolution display time; on-detector calibration file storage that enables quicker setup of the detector on multiple systems; and increased battery life to deliver more images between battery changes. A battery hot swap allows a quick battery change without a reboot.
                                                                        ###
About Huntington Hospital
Huntington Hospital (Pasadena, Calif.) is a 625-bed not-for-profit hospital that offers the only Level I trauma center in the San Gabriel Valley. In addition to being granted Magnet® status in 2011, Huntington Hospital has been ranked nationally by U.S. News & World Report in two specialties, and was named the 8th best hospital in California. The hospital also received Healthgrades 2015 America's 50 Best Hospitals Award™ which places it in the top one percent of more than 4,500 hospitals nationwide for its consistent, year-over-year superior clinical performance as measured by Healthgrades. For more information visit www.huntingtonhospital.com.