Kentucky Hospital Installs New DR Room and Portable X-ray Systems to Enhance Imaging for Urgent Care and Inpatients
Radiology Staff, Physicians and Surgeons Pleased with Image Quality, Reduced Dose and Ease of Use Offered by Carestream DRX Systems
ROCHESTER, N.Y., June 9 — Murray-Calloway County Hospital (Murray, Ky.) recently purchased and installed two Carestream portable X-ray systems and a room-based X-ray imaging system to enhance the quality and productivity of its radiology services. The 140-bed hospital is the only acute care hospital in the region to receive a four-star ranking by the Centers for Medicare and Medicaid Services (CMS).
"Our nine-bed surgical suite has a full schedule of patients who need vascular, orthopaedic, bariatric and other types of surgery," said Heidi Hordyk, the hospital's Director of Radiology. "One of our DRX-Revolution systems is dedicated to surgical patients and is continuously in use. This system allows surgeons to review images in seconds, delivers excellent image quality and has dramatically reduced dose."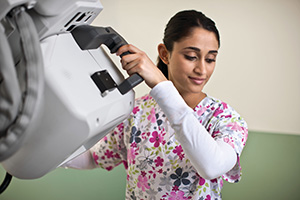 The second DRX-Revolution system captures studies of ER patients as well as inpatients. The hospital also installed a DRX-Ascend system for general X-ray imaging. All three systems are equipped with Carestream's DRX Plus 3543C cesium iodide detectors, which deliver high-resolution images and can be shared with other DRX systems. "All our DRX systems are easy to use and deliver the same user interface. The ability to share a detector if needed is also an important benefit," she adds. 
The flexible room-based DRX-Ascend system offers a tube stand and a choice of a standard float-top table or an elevating float-top table, which has a weight capacity of up to 650 pounds and accommodates patient types ranging from pediatrics to adults and wheelchair patients.
"This flexible room-based system delivers all the features and functionality we need. We are very pleased with its image quality and performance and we selected the optional elevating float-top table to serve the needs of our bariatric patients," Hordyk explains.  
She adds that Carestream's imaging software and service were important factors in the selection process. "The administrative analysis and reporting software allow us to monitor techniques used by each technologist and ensure that patients are receiving the desired dose for each type of exam. This is extremely valuable to our quality assurance process and lets us know when additional training is required."
Carestream's preventative service program is another benefit, Hordyk notes. "Carestream's service team remotely monitors the performance of all three imaging systems and can detect and fix problems before patient care is impacted."  
###
About Murray-Calloway County Hospital  
Murray-Calloway County Hospital offers comprehensive inpatient and outpatient services for residents of Murray, Ky., and the surrounding area. Murray-Calloway County Hospital (MCCH) was one of 1,205 hospitals nationwide and the only four-star rated acute care hospital in the region to receive the highest ranking by the Centers for Medicare and Medicaid Services (CMS). For more information, visit www.murrayhospital.org.