Indiana Hospital Installs New DR Rooms, Upgrades Mobile X-ray System to Enhance Imaging for ER and Inpatients
Carestream DRX-Evolution's Automated Features Help Enhance Care; Allow Imaging of Patients in Wheelchairs and on Stretchers
ROCHESTER, N.Y., March 22 — Franciscan St. Elizabeth Health–Crawfordsville (Crawfordsville, Ind.) installed two Carestream room-based X-ray imaging systems and upgraded an existing portable system to enhance the quality and productivity of its radiology services. The Indiana hospital is a member of Franciscan Alliance, one of the largest Catholic healthcare systems in the Midwest.  
A new Carestream DRX-Evolution facilitates capture of complex imaging exams in the hospital's busy emergency department, which captures several hundred X-ray images a day. The system's wall stand is mounted on a rail, which expedites the capture of cross-table lateral and other complex exams.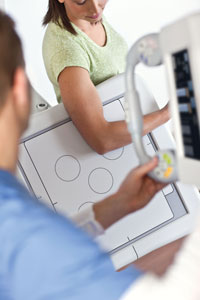 "Many of our ER patients are victims of car accidents, other types of accidents or are elderly. We often perform a series of exams so physicians can assess injuries to the chest, abdomen and extremities," said Nancy Sayler, the hospital's Director of Imaging. "This system's autotracking feature moves the X-ray tube into position for each exam, which allows our staff to capture images in seconds and helps physicians quickly and accurately assess each patient's condition."

Seriously ill or injured patients can be imaged in wheelchairs or on stretchers, which eliminates the painful process of moving them to a table.

The DRX-Evolution also streamlines long-length exams by automatically capturing and electronically stitching the images together. "These composite exams are important for scoliosis screening of children and for detecting fractures, misaligned hips and spinal conditions in adults," Sayler notes.

The hospital also upgraded an existing portable imaging system with a DRX-1 detector. This system captures a variety of exams in the ED as well as bedside exams for inpatients. "This portable system now delivers rapid image access and excellent image quality. Carestream's specialized software creates companion images from the original image to allow physicians to see tube and line placements and diagnose patients with free air in the chest," she explains.

The radiology staff often images inpatients with the mobile system instead of bringing them down to radiology, because it's less stressful for patients and the images are rapidly available to radiologists and physicians.    

A DRX-Ascend system is used to image general radiology patients and provides additional capacity when multiple urgent care patients present at the same time.  

                                                                        ###

About Franciscan St. Elizabeth Health–Crawfordsville
Franciscan St. Elizabeth Health–Crawfordsville is a member of Mishawaka, Ind.-based Franciscan Alliance, one of the largest Catholic healthcare systems in the Midwest with 14 growing hospitals, approximately 20,000 employees and a number of nationally recognized Centers of Healthcare Excellence serving patients in Indiana, Illinois and Michigan. Celebrating more than 100 years of service to the community, Franciscan St. Elizabeth Health – Crawfordsville provides dedicated outpatient women's services, a fully-staffed emergency department, extensive radiology, therapy services, orthopedics, cancer care, wound care and geriatric behavioral health and also has Franciscan Physician Network offices located throughout Montgomery County. For more information, please visit www.StE.org/Crawfordsville.

The hospital is located in Crawfordsville, Ind., located about 50 miles northwest of Indianapolis.

Franciscan St. Elizabeth Health – Crawfordsville is also available on social media at www.Facebook.com/StEHealth, www.Twitter.com/StElizabeth, and on Pinterest at www.Pinterest.com/StEHealth.