Georgia Hospital One of First in U.S. to Purchase Carestream's New Touch Prime XE Ultrasound System
Sonographers Selected the New Platform for Its Significant Advances In Workflow, Ergonomics and Image Quality
ROCHESTER, N.Y., March 31 — North Fulton Hospital (Roswell, Ga.) is one of the first healthcare providers in the United States to purchase the new CARESTREAM Touch Prime XE Ultrasound System.
"We evaluated ultrasound systems from several suppliers and selected Carestream's Touch Prime XE because it offers significant advances in workflow, ergonomics, ease of use and image quality," said Tracy Wilkinson, the hospital's Director of Imaging Services.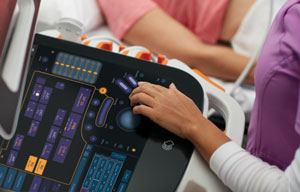 The new Touch Prime XE system was recently installed for general diagnostic imaging use in radiology, OB/GYN and vascular applications at the 202-bed, acute care hospital.
The platform's design is based upon recommendations by ultrasound professionals across the world, resulting in a novel system that can be customized to every sonographer. The system is fully adjustable to accommodate all scanning positions and the swipe of a badge activates each sonographer's preferences and presets.
"During the evaluation process our sonographers quickly recognized that this system is more user friendly, offers faster access to images and eliminates tedious manual steps that are required with older ultrasound systems," Wilkinson reports.
She notes the ability to save time in the detection and visualization of complex flows can help accelerate sonographers' productivity. Carestream's proprietary Smart Flow Imaging visualizes blood ­flow in all directions, independent of imaging angle. In addition, Smart Flow Assist technology, which is available on the Touch Prime XE system, can automatically and continually update beam steering, gate position and angle correction—even when the transducer is moving. This eliminates the need for repeated manual adjustments by the sonographer.
Carestream's Touch Prime XE system employs Carestream's advanced SynTek Architecture, which simultaneously provides enhanced spatial detail with increased frame rates for improved visualization of moving structures while optimizing image formation to reduce noise and artifacts. The Touch Prime XE is capable of frame rates in excess of 100Hz while maintaining enhanced imaging detail. 
"The Touch Prime XE system delivers real-time imaging of structures and maintains full frame rates while adding color and spectral analysis. We can finally do triplex imaging without compromise," Wilkinson said.
She adds that the completely sealed all-touch control panel is void of any buttons, knobs and keys to make cleaning easy and help limit the spread of pathogens. The system can be locked and sanitized within seconds at any time – between patients or even during exams.
For more information about Carestream ultrasound systems, please visit www.carestream.com/touch.
###
About North Fulton Hospital
North Fulton Hospital (NFH) is a 202-bed, acute-care hospital located in Roswell, Ga. Opened in 1983, NFH serves North Fulton and surrounding counties through its team of more than 800 employees, 400 staff physicians and 200 volunteers. NFH is a state-designated Level II trauma center and provides a continuum of services through its centers and programs, including neurosciences, women's health services, orthopedics, rehabilitation, surgical services, gastroenterology and oncology. The hospital is fully accredited and is also recognized by the American College of Surgeon's Commission on Cancer as an Accredited Cancer Program, as well as being certified as a Primary Stroke Center by the Joint Commission on the Accreditation of Healthcare Organizations. For more information, please visit www.nfultonhospital.com.