Exeter Hospital Upgrades 10 Portable, Room-Based Systems to Digital Radiography, Installs New Mobile X-ray System
Carestream Selected After Earning Highest Ratings for Image Quality, Ease of Use and Dose Reduction
ROCHESTER, N.Y., June 13 — Exeter Hospital (Exeter, N.H.) upgraded nine radiology rooms and one portable X-ray system to digital radiography (see video) with CARESTREAM DRX Retrofit Kits and CARESTREAM DRX Plus 3543 Detectors. The hospital also purchased a CARESTREAM DRX-Revolution Mobile X-ray System.
"Our radiologists agreed that Carestream imaging systems provide the best image quality to meet the needs of our healthcare system and our technologists gave Carestream the highest ranking for ease of use," said Mike Gressel, Exeter Hospital's Director of Diagnostic Imaging and Cardiovascular Services. "Carestream systems also delivered the lowest dose, which was a critical component in our decision."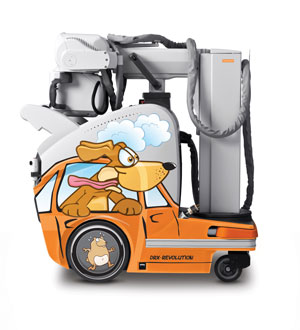 He adds that the staff decided to select a single vendor to ensure image consistency, which can help radiologists detect abnormalities and deliver accurate diagnoses. Since hospital technologists also work at six community health centers, a consistent user interface enhances productivity as well.
Three X-ray rooms and one portable X-ray imaging system at the hospital were upgraded with DRX Plus 3543 detectors and software along with the radiology suites at all six satellite facilities.
A DRX-Revolution system captures images in the hospital's ICU, ED and OR in addition to performing inpatient exams. "This system delivers excellent image quality and access to images in about five seconds. It also offers optional software that enhances visualization of tubes and lines, which is important for urgent care patients," said Gressel.
He notes that the new imaging systems will help improve speed of image access during the busy summer season, when imaging volumes increase due to outdoor accidents and injuries for local residents as well as visitors who come to enjoy the area's beaches.
Carestream DRX detectors can be used with any DRX system to deliver flexibility and enhance productivity.
Exeter Hospital is designated as a Magnet® hospital and has been recognized for seven years as one of the nation's "Most Wired" healthcare organizations for its use of information technology.
###
About Exeter Hospital
Exeter Hospital is a 100-bed community-based hospital and one of three affiliates of Exeter Health Resources. The hospital has 2,100 employees, more than 200 affiliated physicians, 34,000 annual emergency department visits and over 5,000 annual admissions. The hospital offers comprehensive health care services in breast health, birthing and reproductive medicine, cardiovascular, occupational and employee health, oncology and orthopedics. For more information please visit www.exeterhospital.com.