Carestream Demonstrates Impressive Advantages of Touch Prime Ultrasound Systems at 2016 SDMS Annual Conference
Advanced Features Reduce Key Strokes for Volume and Velocity Measurements
ROCHESTER, N.Y., Sept. 14 — Carestream will demonstrate its CARESTREAM Touch Prime and Touch Prime XE Ultrasound Systems at the Society of Diagnostic Medical Sonography (SDMS) 2016 conference that begins Sept. 29. These systems currently are available in the United States and a Health Canada license is under review.
"Both Touch Prime and Touch Prime XE systems provide exceptional image quality. They also streamline measurements to expedite clinician access to critical imaging information while boosting staff productivity," said Helen Titus, Carestream's Worldwide Marketing Director for X-ray & Ultrasound Solutions. "Advanced computing power and our SynTek architecture deliver a simultaneous increase in frame rate, improved penetration and uniform focus throughout the field of view."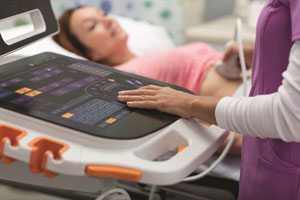 Carestream's  Touch Prime and Touch Prime XE systems offer Smart Flow, Smart Flow Assist and Smart Select technology designed to further enhance workflow. Smart Flow measures blood flow in both axial and transverse directions to allow more rapid interrogation of blood flow within a vessel and reduce time-consuming, angle-dependent probe positioning.
Smart Flow Assist automatically determines the highest area of flow and places and adjusts sample size as well as angle corrections. This reduces the number of key strokes for velocity and volume measurements.
Integrated one-touch transducer activation and a mode-programmable Smart Select button on the transducers allow a sonographer to reduce key strokes and improve productivity. A single touch of a button allows the user to activate the transducer as well as program two additional functions from a list of 16 commonly used functions.
The Touch Ultrasound platform is ideally suited for high-volume imaging with its all-touch user interface, compact profile, easy maneuverability and adjustable features. "Swipe-and-go" system activation configures the interface to each user's preferences and a bar code reader reduces key strokes to save time. Its glass console is easy to clean, and wireless connectivity provides rapid transfer of images and data to PACS, RIS or other systems.
Carestream offers specialized transducers for radiology, OB/GYN, musculoskeletal and vascular imaging. A direct transducer interface to the ultrasound processing board delivers lower noise and higher image quality, and four transducers can be connected simultaneously to any of the system's four ports.
The Touch Prime XE is capable of frame rates in excess of 100Hz while maintaining enhanced imaging detail. An integrated gel warmer delivers added convenience and patient comfort.
The Touch Ultrasound platform's design is based upon recommendations by sonographers and ultrasound professionals across the world.