Carestream Ultrasound Systems Receive Health Canada License
ROCHESTER, N.Y., Oct. 13 — CARESTREAM Touch Prime and Touch Prime XE Ultrasound Systems (video link) have received a Health Canada license and are currently available for sale in Canada as well as the United States.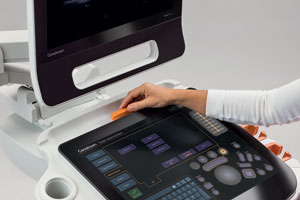 The Touch Ultrasound platform's design is based upon recommendations by sonographers and ultrasound professionals across the world and offers an all-touch user interface, compact profile, easy maneuverability and adjustable features.
Swipe-and-go system activation configures the interface to each user's preferences and a bar code reader reduces key strokes to save time. Its glass console is easy to clean and wireless connectivity provides rapid transfer of images and data to PACS, RIS or other systems. Carestream offers specialized transducers for radiology, OB/GYN, musculoskeletal and vascular imaging.
"Our ultrasound systems provide exceptional image quality and streamline measurements to expedite clinician access to critical imaging information while boosting staff productivity," said Helen Titus, Carestream's Worldwide Marketing Director for X-ray & Ultrasound Solutions. "Advanced computing power and our SynTek architecture deliver a simultaneous increase in frame rate, improved penetration and uniform focus throughout the field of view."  
These systems have earned praise for a sealed, all-touch control panel that combines the speed and flexibility of a soft user interface with the tactile feedback of traditional keys. Etched marking for primary controls equips the user to easily locate key functions without looking away from the image display monitor.