Carestream to Demonstrate Cone Beam CT Technology at BOA Congress
HEMEL HEMPSTEAD, August 3 — As Carestream continues to expand its range of imaging modalities, including cone beam CT, the new Carestream OnSight 3D Extremity System* will be available for demonstration at the British Orthopaedic Association (BOA) Annual Congress conference in Belfast on September 13 – 15.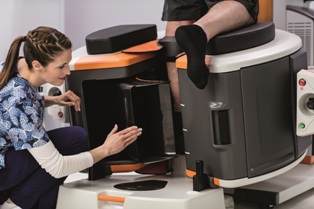 Carestream's OnSight 3D Extremity System is designed to provide high-resolution 3D volumetric imaging of extremities at the point of care, with an easy-open bore and step-in patient access to allow weight-bearing studies. It allows upper and lower extremity 3D exams, providing high-resolution isotropic 3D images, all with a reduced dose compared to conventional CT systems.
Carestream OnSight systems are compact and affordable and can be used for orthopaedic imaging in a wide range of facilities including hospitals, clinics and sports medicine centres. Carestream CBCT technology will be of benefit in capturing images of patient extremities including weight-bearing images of knees, legs and feet, all of particular interest to orthopaedic and sports medicine specialists.
"We are expanding our proven expertise in radiology with new systems and research aimed at addressing unmet needs in the orthopaedic markets," said Charlie McCaffrey, UK Managing Director for Carestream. "BOA will provide an exciting opportunity for visitors to experience for themselves how advanced, accessible and easy to operate the new OnSight system really is."
* EU Customers: Device cannot be marketed or sold until compliant with 93/42/EEC