Carestream Participating in SIIM Panel Discussion Describing Use of Enterprise Viewers to Access Data from an EMR
Mobile Access to Images Can Deliver a More Holistic View of a Patient's Condition While Enhancing Delivery of a Diagnosis
ROCHESTER, N.Y., June 22 — A Carestream executive will participate in a panel on "Communication and Collaboration Using Enterprise Viewers in the EMR" on Wednesday, June 29, during the annual meeting of SIIM (Society for Imaging Informatics in Medicine). The discussion will be moderated by Dr. David S. Hirschorn, Director of Radiology Informatics, Staten Island University Hospital.
Attendees will explore how universal enterprise viewers accessed from within the EMR (or outside of it) can provide communication and collaboration tools for clinicians, as well as imaging department staff such as radiologists and cardiologists.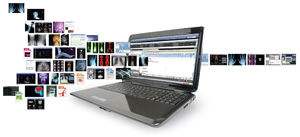 Kiran Krishnamurthy, Carestream's Worldwide Product Line Manager for Healthcare Information Solutions, will describe the advantages offered by Carestream's Vue Motion universal image viewer that delivers secure image access from mobile devices and computers. The viewer supports EMR-driven access to content including links to multi-format, multi-specialty clinical data (images, video and waveforms) as well as interactive multi-media reports with embedded hyperlinks to key findings.
This viewer also delivers access to images and data from multiple "ologies," provides side-by-side display of DICOM and non-DICOM images, and is so intuitive that users can be proficient within minutes of use.
"Easy access to images and data equips physicians and specialists with a more holistic view of each patient's condition and can streamline the process of communicating diagnostic and treatment decisions to patients," Krishnamurthy explains. "Advanced sharing features also can facilitate obtaining a second opinion and enhance telemedicine services."       
The company's advanced Vue Reporting capabilities provide multi-media enhanced reports that automatically contain structured and quantitative data, standardized language and comparative data. Physicians can use hyperlinks from the report to directly view the key image or significant findings from an EMR or a universal viewer.
According to several papers and studies, these advanced functions are preferred by radiologists, oncologists and physicians: 
A paper authored by physicians at the National Institutes of Health (NIH) found that radiologists and oncologists preferred having hyperlinks to key data in reports. In a pilot study presented at RSNA 2015, NIH researchers reported that the use of quantitative interactive reports led to an average of nearly nine minutes in time savings for the oncologist to assess tumor burden when compared to traditional text-only reporting.
Facilities that offer multi-media reporting also could gain increased referrals from physicians, according to a study conducted by the Emory University School of Medicine. This study found that 80 percent of physicians would preferentially refer patients to a healthcare provider with multi-media reporting. In addition, 79 percent of physicians are more likely to recommend that their peers refer patients to a facility with multi-media reporting, according to the study.
Carestream also will showcase its Clinical Collaboration Platform at SIIM. It offers modules for diagnostic viewing, interactive multi-media radiology reports, vendor-neutral archiving (VNA), an enterprise viewer for clinicians, a patient portal and a web-based, mobile module to capture, manage and share non-DICOM clinical data from an EMR system. Demonstrations can be scheduled at http://www.carestream.com/specials/campaign/siim-2016.html.