U.S. Navy Selects Carestream's Medical Image Management System for Its USNS Mercy Hospital Ship
Ship Provides 1,000 Patient Beds, 12 Operating Rooms, Comprehensive Laboratory and Radiology Services
ROCHESTER, N.Y., March 10 — The U.S. Navy selected Carestream's Picture Archiving and Communications System (PACS) for use on its USNS Mercy hospital ship that provides acute medical and surgical services for Navy, Army, Air Force and Marine forces deployed on land or sea throughout the world. This ship, based out of San Diego, Calif., also provides medical services for humanitarian relief efforts and victims of disasters.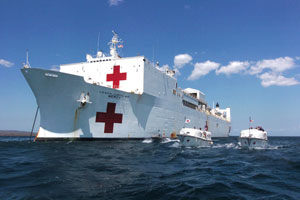 USNS Mercy is the lead ship in her class of hospital ships operated by the U.S. Navy. The ship has 80 beds in its intensive care wards, 12 operating rooms and a total of 1,000 patient beds. Its medical staff provides comprehensive care that includes radiology imaging services, laboratory testing services, physical therapy and burn care.
PACS systems are used by hospitals, clinics and medical practices to store, manage and access and share patient medical images and information. Carestream's Vue PACS with nativeVue Reporting is authorized for use in U.S. Navy medical facilities after meeting stringent product security requirements required by the Navy's DIACAP (Department of Defense Information Assurance Certification and Accreditation Process) certification process. Carestream currently has the only PACS and reporting systems that are DIACAP approved for use on a U.S. Navy network.   
Carestream's Vue Reporting module offers native voice recognition to streamline the reporting process and provides diagnostic results to radiology information systems or other PACS systems. The company's Vue PACS can support multi-site reading of diagnostic exams and sharing of radiology information to help physicians determine the best treatment for each patient's condition.
Carestream's Vue portfolio of healthcare IT solutions is designed to help enable greater clinical insight for physicians, foster collaboration, control costs and streamline dataflow. The company's Vue solutions amplify the clinical, business and IT value of radiology services.
Carestream's X-ray products and healthcare IT systems are used by the U.S. Government's Veterans Integrated Service Networks, the U.S. Navy, U.S. Army and U.S. Air Force, and many foreign governments and healthcare organizations around the world