Texas Hospital Retrofits X-ray Systems with DRX Detectors To Speed Image Access in Trauma Center
Carestream's Software Provides Enhanced Visualization of Tubes, Lines and Other Devices to Aid in Treatment of Critical Patients
ROCHESTER, N.Y., Sept. 2 — Shannon Medical Center (San Angelo, Texas) installed three CARESTREAM DRX-1 Detectors to help achieve rapid image access for existing portable and room-based X-ray units that serve patients in its trauma center, ICU, and surgical suites. The 250-bed hospital is the largest hospital in the area and conducts 140,000 X-ray, CT and MR exams a year.
The facility's DRX detectors are deployed in three portable diagnostic imaging systems used in the ER, surgical suites and inpatient areas, as well as an X-ray room in the ER.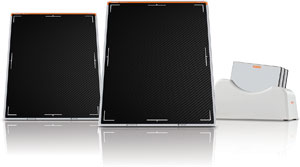 "The DRX detectors enable physicians to view high-quality images in seconds while Carestream's specialized software creates a companion image that shows enhanced visualization of tubes, lines, catheters and other devices," said Mark Halfmann, the hospital's PACS Administrator. "Both the speed and visualization capabilities help physicians provide optimized diagnosis and treatment for our patients."
The hospital has lowered patient X-ray exposure by an average of 30 to 40 percent by replacing CR cassettes with DRX detectors. "Decreasing dose is especially important for severely ill and injured patients who often require multiple X-ray exams a day," Halfmann adds. "And since the companion image is created by applying advanced algorithms to the original image, this eliminates the need for a second X-ray and further reduces exposure for our patients."
Halfmann also values the ability to move the DRX detectors easily between multiple X-ray systems as needed throughout the day. "We currently share three detectors among four systems. We move the detectors to enhance workflow and achieve a greater return on our investment," he said. "We have DR detectors from other vendors, but they do not provide the advanced functionality offered by DRX detectors, such as the ability for use in multiple systems."
The hospital's staff plans to retrofit additional imaging systems with DRX detectors in the future.
                                                                        ###
About Shannon Medical Center
Shannon Medical Center, located in San Angelo, Texas, has proudly served the West Texas area for over 80 years. Dedicated to providing exceptional healthcare for its family, friends and neighbors in the area, Shannon serves as a regional health care resource with diverse clinical services. Together with Shannon Clinic, it offers access to more than 220 providers in 32 specialties across 18 locations. Shannon's services include nationally recognized cardiac and stroke programs with the region's only Open Heart Surgery Team, AirMed 1 air ambulance, and designated Level III Trauma Facility which has been named top Trauma Facility in the state. It also features a dedicated Women's & Children's Hospital which celebrates the birth of more than 1,200 new babies each year and is home to the Children's Miracle Network for this area. For more information, visit www.shannonhealth.com.