Carestream Signs Ten-year Contract for RIS/PACS at Newcastle Upon Tyne
HEMEL HEMPSTEAD, August 2015 - Carestream has signed a ten year deal with Newcastle Upon Tyne Hospitals NHS Foundation Trust to supply a replacement RIS/PACS. The new CARESTREAM RIS/PACS will include Carestream Vue RIS, Carestream Vue PACS, Carestream Vue Motion, Carestream Vue Reporting and Carestream Vue Beyond together with Power Viewer, lesion management and cardio PACS.
The Trust, located in the North East of England, is a large acute NHS Trust that has close associations with Newcastle University and provides services over a number of sites including the Royal Victoria Infirmary, Freeman Hospital, Newcastle General and many smaller hospital sites across the region. In total, the Trust performs 550,000 radiology examinations each year, including breast screening.
The Trust recently tendered for the replacement of their existing RIS/PACS via the NHS Supply Chain and, after an extensive evaluation process, Carestream was chosen as the preferred bidder. The Carestream RIS/PACS will be provided as a managed service including software and services and hardware, and go-live is planned for early 2016 following data migration from the legacy RIS/PACS.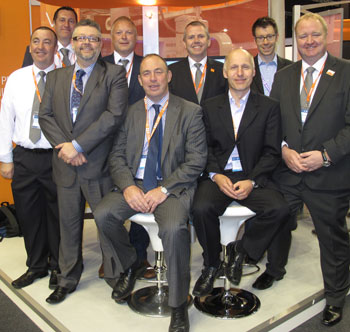 (l-r) Andrew Robson, Sales Specialist, Carestream; Neil Lewis, Applications Specialist, Carestream; Graeme Hughes, Radiology Services Manager, Newcastle Upon Tyne Hospitals NHS Foundation Trust; Jonathan Atkinson, Key Account Manager, Carestream; Gordon Kirkup Divisional Manager, Newcastle Upon Tyne Hospitals NHS Foundation Trust; Charles McCaffrey, Managing Director, Carestream Health UK; Dr Ralph Jackson Consultant Radiologist and Clinical Director, Newcastle Upon Tyne Hospitals NHS Foundation Trust; Dr Matt Scott, Consultant Radiologist, Newcastle Upon Tyne Hospitals NHS Foundation Trust; Jason Barron, Sales Manager, Carestream