Syracuse Hospital Designing New Emergency Department Without an X-ray Room
Portable Digital Radiography System Will Provide Rapid Image Access for Chest, Abdomen, Extremity Exams in Expanded ED
ROCHESTER, N.Y., Dec. 16 — Crouse Hospital (Syracuse, N.Y.) is designing a new emergency department that does not include what was once considered standard equipment—an X-ray room. When the hospital's Director of Radiology Brad Hellwig looked at the initial drawings, he realized a portable DR-based system could capture the most common X-ray exams performed on incoming patients who are not in critical condition.
"We purchased a CARESTREAM DRX-Revolution Mobile X-ray System for our new ED because it is easy to maneuver and enables technologists to quickly and easily capture high-quality images of seriously ill or injured patients," he reports. "Physicians can view images in seconds and the system also has special software that enhances visualization of tubes and lines, which is especially important for urgent care patients," Hellwig reports.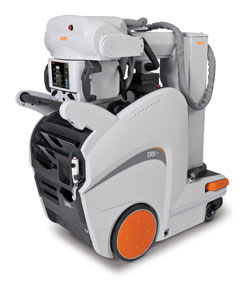 "Most ED patients have X-ray exams on their chest, abdomen, arms, legs and other extremities. I realized we don't really need an X-ray room in the ED. We can use the portable DR system to perform these exams. Images will be available for review by physicians in seconds and we will be able to use that space for more productive purposes," he adds.
Plans call for the ED to be equipped with a CT system. An MR system is located in an adjacent area. Patients requiring cross-table, C-spine or other complex X-ray exams can be quickly transported to the hospital's radiology department.
The hospital's staff expects building to begin on the new ED in 2016 and current plans call for its clinical space to be more than 51,000 square feet. The current ED is 17,500 square feet. Crouse Hospital has the busiest ED in Syracuse and captures almost 23,000 X-ray exams a year.
The hospital's first DRX-Revolution system was installed for use in its 57-bed NICU, which is a regional referral center for high-risk neonatal ICU patients. That system is also used for portable exams in the ICU and other areas of the hospital. "The DRX-Revolution has proven to be extremely reliable, easy to use and offers advanced features that help both physicians and technologists deliver better patient care," Hellwig notes.
The second DRX-Revolution system is currently being used for portable exams throughout the hospital and will be moved to the new ED when it is opened.
The DRX-Revolution is a versatile mobile X-ray system that features a small footprint, exceptional maneuverability, excellent image quality and wireless communication of X-ray exams. The DRX-Revolution earned the top rating in MD Buyline's Market Intelligence Briefing™ (Q3 2015) for the third time this year. Carestream's room-based DRX-Evolution and DRX-Ascend systems also scored high marks for performance, reliability, installation and service. 
###
About Crouse Hospital
Crouse Hospital is Central New York's largest provider of maternity care services, delivering more than 4,200 babies annually, and is the state-designated regional referral center for high-risk neonatal intensive care services. Crouse also operates one of the longest-running and largest ambulatory surgery programs in the nation in two surgery centers near the main hospital complex. Other specialties include: comprehensive diagnostic and interventional cardiac care (featuring the region's only pediatric cardiac catheterization program); surgical services (including the latest advancements in robotic surgery); orthopaedics; stroke care (Crouse is a NYS-designated stroke center and the first 'Gold Plus' stroke hospital in Syracuse); oncology; and has the region's only hospital-based chemical dependency treatment services. For more information please visit www.crouse.org.