St. Michael's Hospital Installs Vue PACS with Advanced 3D Tools, Lesion Management
New Streamlined Reading Workflow Cuts Reporting Time in Half
ROCHESTER, N.Y., June 11 — St. Michael's Hospital (Toronto, Canada) replaced its existing PACS with a CARESTREAM Vue PACS after viewing demonstrations and conducting site visits with six suppliers.
"Carestream's Vue PACS represents a new generation of PACS technology. Its embedded 3D tools and advanced lesion management capabilities can enhance reading while simultaneously speeding up the process," said Dr. Tim Dowdell, the hospital's Chief of Radiology.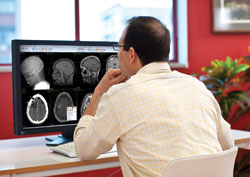 Vue PACS also offers an intuitive interface and easy integration with other systems to streamline the reading workflow. "The Vue PACS system's diagnostic tools and highly integrated workflow have exceeded my expectations and those of my radiologist colleagues," he adds.  
The PACS is integrated with a third-party voice recognition system and the hospital information system (HIS) to create efficient reading and reporting. "We have cut turnaround time for reports in half for all modalities thanks to an updated voice recognition system and the new PACS," said Dr. Dowdell.
The PACS delivers customized, user-defined worklists and hanging protocols. "We now have a PACS-driven workflow that is much more efficient for radiologists and equips us to better serve physicians and their patients," he reports. 
The system has been well received by surgeons, physicians and other enterprise users, and both exam images and exam reports are now easily accessible from the HIS. This has significantly enhanced imaging-based clinical workflow in the hospital.
Vue PACS delivers 3D data display with automatic vessel segmentation; interactive multi-planar reconstruction (MPR) to allow data viewing in any plane; automatic volume registration and matching directly within the viewer to streamline volumetric data comparison; and automatic display of multiple exams from different modalities for comparison. It also offers embedded critical results notification and voice commands.
Carestream's lesion management application allows radiologists to offer follow-up for exams requiring complex treatment planning and delivers the data referring oncologists need including trending analysis, measurements, anatomical bookmarking and more.
                                                                        ###
About St. Michael's Hospital
St. Michael's Hospital provides compassionate care to all who enter its doors. The hospital also provides outstanding medical education to future health care professionals in 27 academic disciplines. Critical care and trauma, heart disease, neurosurgery, diabetes, cancer care, care of the homeless, and global health are among the hospital's recognized areas of expertise. Through the Keenan Research Centre and the Li Ka Shing International Healthcare Education Centre, which make up the Li Ka Shing Knowledge Institute, research and education at St. Michael's Hospital are recognized and make an impact around the world. Founded in 1892, the hospital is fully affiliated with the University of Toronto. For more information, visit www.stmichaelshospital.com.