Specialty Hospital Upgrades Vue PACS; Clinicians Praise Specialized Reading, Measurement Tools
Carestream's Vue Motion Universal Viewer Equips Physicians With Convenient Access to Patient Images on Mobile Devices
ROCHESTER, N.Y., Sept. 9 — Tulsa Spine and Specialty Hospital (Tulsa, Okla.) recently upgraded its CARESTREAM Vue PACS to add new capabilities including a Vue Motion universalviewer that supports image access on mobile devices.
The hospital's specialists provide surgery and other treatments for orthopaedic, ENT (ear, nose and throat), spine, ophthalmic and podiatry patients. Its radiology staff performs 18,000 MR, CT, X-ray, myelography and fluoroscopy exams a year.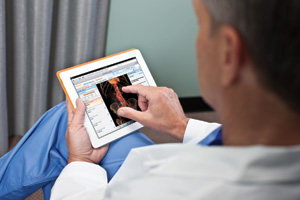 "We did extensive research when we originally selected Vue PACS seven years ago and this system has exceeded our expectations," said Julie Gerber, the hospital's radiology clinical services director.
"Our upgraded PACS offers advanced reading tools and other capabilities, including a Vue Motion universal viewer to support remote access on mobile devices for orthopaedic specialists and referring physicians. The upgrade went smoothly and we did not experience any downtime, which is a testament to the Carestream team's planning and execution," she reports.
Gerber adds that the hospital's radiologists are extremely pleased with Carestream's spine labeling, vascular and other reading tools. Surgeons also use PACS-based measurement tools as part of their surgical planning.    
More than 50 physicians are registered users of the Vue Motion viewer. "Physicians can view patient images from their mobile devices, laptops or computers. Making image access more convenient enables timely diagnostic and treatment decisions, which can enhance patient care," Gerber explains. "Delivering images electronically also has reduced the time-consuming and costly process of outputting patient imaging studies onto CDs or radiographic film."
Carestream's Vue Motion universal viewer received an FDA clearance for clinical reading and is approved for use on popular tablets, phones and other mobile devices. Carestream's PACS delivers expanded clinical tools, a powerful lesion management application, advanced multi-media reporting, support for teleradiology, critical results notification and voice commands.
###
About Tulsa Spine and Specialty Hospital
Founded in December 2002, Tulsa Spine & Specialty Hospital specializes in excellence in Surgical Services, Diagnostic Imaging and Pain Management. The hospital offers state-of-the art MRI, CT and myelography exams. It is the depth of experience and the abilities of the physicians and nurses at Tulsa Spine & Specialty Hospital that make it the ideal place for high tech and high touch to unite. Designed to be more personal and inviting than the typical medical facility, Tulsa Spine & Specialty Hospital occupies a resort-like setting on nine acres of woodlands near the Arkansas River. A 130,000 square-foot state-of-the-art medical center, the Tulsa Spine & Specialty Hospital anchors the newly developed 54-acre Olympia Medical Park complex at 71st Street between U.S. Highway 75 and the Arkansas River. For more information, visit www.tulsaspinehospital.com.