Saint Francis Medical Center Purchases Carestream's Vue Portfolio Of Healthcare IT Solutions that Deliver Advanced Capabilities
ROCHESTER, N.Y., March 3 – Saint Francis Medical Center (Cape Girardeau, Mo.) purchased Carestream's Vue portfolio of healthcare IT solutions that delivers fully featured image viewing, management, sharing and storage capabilities. The 284-bed hospital purchased Carestream's Vue PACS, Vue for Vendor Neutral Archive, zero footprint Vue Motion image viewer and MyVue patient portal.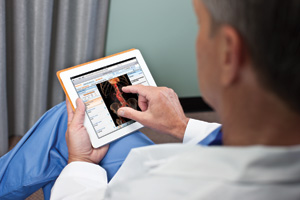 "Carestream's PACS platform was chosen by our staff and radiologists because it combines advanced features and functionality with ease of use," said Andrew Welker, the hospital's PACS Administrator. "The zero footprint image viewer will equip remote physicians and specialists to easily view radiology reports and imaging studies on mobile devices from their offices, homes or at a patient's bedside. We believe this capability can help enhance patient treatment decisions."
The Vue PACS will be fully equipped with 3D analysis tools, lesion management capabilities, and a mammography module with specialized imaging tools including digital breast tomosynthesis. Carestream's Vue Beyond business intelligence and reporting dashboard accesses PACS data and provides a real-time understanding of department workflow.
Welker added that Carestream's vendor-neutral archive will deliver high-performance data access, flexibility, and upgradability as well as real-time data access from two locations to ensure continuous operations.
Patients will gain the ability to view, store and share their medical data with an easy-to-use patient portal that Welker hopes will drive increased patient satisfaction while reducing the need to output medical imaging studies to CDs.
                                                                  ###
About Saint Francis Medical Center
Based in Cape Girardeau, Missouri, Saint Francis Healthcare System offers services to more than 650,000 people in a five-state region through Saint Francis Medical Center, a 284-bed nonprofit tertiary care institution, and Saint Francis Health Development Services Corporation, a for-profit healthcare services company. The Catholic-based Saint Francis Healthcare System has evolved in the 21st century from a local community medical center to the regional tertiary healthcare leader in the five-state region due to the tremendous efforts of a visionary administrative team, talented group of managers, and exceptional work force, all focused on providing the highest quality of care to patients and support to family members. For more information, visit www.sfmc.net.