Rochelle Hospital Adds ECG Management Module to Carestream's Vue Cardio PACS to Enhance Reading of Cardiac Images
Remote Physicians Use Company's Zero Footprint Image Viewer to Review Reports, Exams on Mobile Devices
ROCHESTER, N.Y., March 12 — Rochelle Community Hospital (Rochelle, Ill.) recently added an ECG management module to Carestream's Vue Cardio PACS to provide full reading capabilities for ECG as well as echo cardiograms, ultrasound and nuclear cardiology exams. Carestream's ECG module integrates ECG carts from multiple vendors to create worklist-based access to ECG wave forms that expedite physician access to patient files.
"Carestream's Vue Cardio PACS helps enhance our cardiologists' productivity with a single worklist, advanced reading and measurement tools, and structured reporting with an electronic signature," said Scott Stewart, the hospital's Manager of Information Services. "Our referring physicians appreciate the ability to quickly and easily view reports and cardiology exams from our EMR using their mobile devices."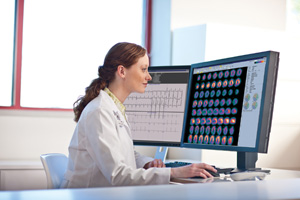 The Web-based Vue Cardio PACS is integrated with a CARESTREAM Vue PACS so both systems can use the same interface to the hospital information system (HIS) and also share the vendor-neutral CARESTREAM Vue Archive. A consolidated archive can help reduce costs and enhance workflow by helping to eliminate departmental silos of clinical information. The archive collects images and data from a variety of departmental systems to create a cohesive patient record and supports interoperability standards and protocols such as HL7, DICOM, non-DICOM, and IHE (including XDS and XDS-i).
Vue Cardio PACS can help streamline on-site and remote access to medical images for faster diagnosis, reporting, storage and distribution of clinical data. Carestream's Vue Archive is available as an on-site or cloud-based solution. Images from Carestream's Vue PACS, Vue Cardio PACS and Vue Archive can be accessed anywhere, anytime using a Carestream zero-footprint, Web-based image viewer. The viewer is FDA cleared for use on iPhone 4s, iPad 2, Galaxy Note® and Galaxy S® III mobile devices.  
Carestream is the company behind several of the largest healthcare IT installations in the world that feature picture archiving and communications systems (PACS) as well as vendor-neutral archives (VNA) for managing medical images and many forms of patient data. The company's radiology IT architecture is in use at some of the most well-known HMOs, independent healthcare networks, and regional and national healthcare systems.
###
About Rochelle Community Hospital
Located 25 miles south of Rockford, Ill., and 75 miles west of Chicago, Rochelle Community Hospital (RCH) has been serving Rochelle and the surrounding communities for more than 100 years. In addition, RCH is one of only five hospitals in Illinois to be recognized as a HealthStrong™ hospital – one of the Top 100 critical access hospitals in the nation for 2013.  Additional information regarding services at RCH can be found at www.rochellehospital.com.