Carestream RIS/PACS To Improve Productivity and Quality of Patient Care at ASL di Biella, Piedmont, Italy
With the support of the Carestream Health Digital Revolution, the Azienda Sanitaria Locale (ASL) di Biella in Italy is creating an integrated digital system for the efficient management of radiographic images and reports.
GENEVA, Switz., May 6th  — Carestream Health has been awarded a five-year contract for the supply of an integrated RIS/PACS system at ASL of Biella, a Trust located in Piedmont Region in northwest Italy.
Biella ASL covers a wide mountain area, that includes a new hospital in Biella and further clinics around Biella and Cossato, and has a catchment area of around 180,000 people, pretty much scattered around the territory. The Trust produces an average of around 140,000 exams each year so it was decided to install an integrated digital system for managing X-ray images and reports, with the aim of improving productivity, quality and accuracy of patient care.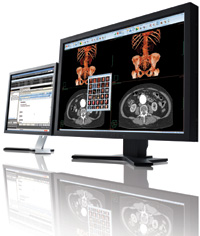 The powerful Carestream RIS/PACS platform allows health professionals at the Biella trust to manage digitally all stages of the patient journey including radiology, administrative management such as appointment bookings, work lists etc., diagnosis and reporting, to the distribution of clinical results. In addition to simplifying data entry and significantly reducing errors caused by manual transactions, the Carestream PACS enables the sharing of images over the network and the remote viewing of images, together with requests for advice and opinions, comparison with similar cases and real time consulting on line with other specialists and departments in nearby hospitals at Novara, Vercelli and Omegna.
The contract provides for the supply of a Carestream RIS/PACS system with sufficient storage for more than five years' worth of medical images produced at ASL hospital and clinics, allowing for the efficient, safe and secure storage and distribution of images and reports to medical facilities across the territory. The Carestream solution consists of two main storage systems, one in the new hospital in Biella and one in a data centre in Milan, ensuring continuity of data access and protection for disaster recovery. The installation also includes twenty reporting workstations, including three for mammography, together with the most advanced post processing software for the manipulation of digital images, and four units which can burn CDs for distribution to patients and referring GPs.
The Carestream solution at ASL also includes Carestream MyVue, a secure portal that will allow patients to access their radiological images and associated reports from home, via a secure web connection, and share them with their GP or other specialists. 
The project to install digital diagnostic imaging is an important turning point for the ASL of Biella. It will improve service levels across the province, reducing both patient waiting times and associated costs.