Carestream Demonstrating New Ultrasound System With Unique All-Touch Control Panel at AIUM
Company's Platform and Design Features Can Enhance Productivity, Ease of Use While Delivering High-Quality Patient Images
ROCHESTER, N.Y., March 17 — Carestream Health's new CARESTREAM Touch Ultrasound System (pending 510(k) clearance) will offer a revolutionary combination of exceptional user experience and image quality to meet the needs of even the most demanding radiologists and sonographers. The new system is being demonstrated at the American Institute of Ultrasound in Medicine (AIUM) conference this week in Orlando.
When the Touch Ultrasound system was demonstrated at the recent Radiological Society of North America (RSNA) conference, attendees indicated the new system promises to be a major advancement for sonographers and medical professionals involved in the ultrasound field.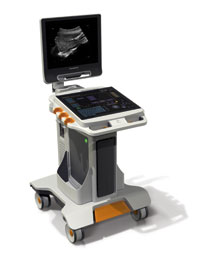 This innovative ultrasound platform delivers a unique all-touch control panel, integrated GPU processing power and smart transducer technology coupled with a single-board system design. This creates a highly reliable product with advanced imaging capabilities, a compact footprint and a modern user interface. Its sleek, all-touch control panel blends the best of both worlds by combining the speed and flexibility of a soft user interface with the tactile feedback of traditional keys. Etched marking for primary controls assists the user with easily locating key functions without looking away from the image display monitor.   
"Our new ultrasound platform was developed based on very specific input from sonographers and other ultrasound imaging professionals who use these systems on a daily basis," said Andrew J. Hartmann, General Manager, Global X-ray Solutions, Carestream. "This feedback enabled us to identify user needs that were not adequately addressed by existing ultrasound systems and helped us create a powerful platform for ultrasound imaging."
The design team for the Touch Ultrasound system is working with best-in-class suppliers, using state-of-the-art technology and gathering input from ultrasound professionals around the globe to refine the capabilities of this new platform.
Carestream's new Touch Ultrasound system also includes these benefits:
A sealed panel allows effortless cleaning to help limit the spread of pathogens;
High-level computing power provides both speed and excellent image quality;
Easy maneuverability and a small, lightweight footprint makes the imaging process faster and easier;
"Swipe and go" badge log-on saves time and promotes secure access;
 "Smart connect" transducer technology enables easy one-touch selection of the desired transducer;
Cold boot time of an unprecedented 18 seconds can further enhance productivity, with no need for standby mode or battery backup; and
Easy cart adjustments allow sonographers to position the system where it is most comfortable to help reduce repetitive stress injuries.
Carestream plans to extend the Touch Ultrasound system's unique technologies and features across a family of Carestream ultrasound products that addresses the needs of various users and markets throughout the world—all backed by Carestream's global network of service, support and training.
The first two products in the Touch Ultrasound family are expected to ship in the third quarter of 2015.