ROCHESTER, N.Y., Oct. 20 — Carestream unveiled a new lower-priced mobile X-ray imaging system that can be purchased as a CR system and easily upgraded to wireless DR technology to gain faster image access and automated features. The fully featured CARESTREAM Motion Mobile System is available for order in Europe, Latin America and other countries outside North America and is sold by Carestream representatives and local dealers. The new system is scheduled to begin shipping in December.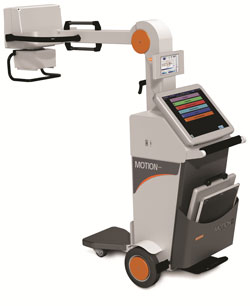 "This flexible, reliable, new portable system offers components that make it easy to upgrade to a DR workflow," said Heidi McIntosh, Carestream's Marketing Manager for Global X-ray Solutions. "Imaging facilities across the world will find the Motion Mobile system can meet their imaging needs for years to come because of built-in functionality that can be activated when needed." 
The portable imaging system features a balanced and articulating arm that equips it to capture most types of imaging exams. The unit is compact, lightweight, easy to transport and position, and features a powerful 30kW generator and eight-inch touch screen monitor.
The Motion Mobile System offers manual or APR (anatomical programmed radiography) mode for quick selection of exam technique and push button or hand switch controlled exposures. A tilting step is designed to help operators move the unit over uneven surfaces.
A cost-effective DR retrofit upgrade provides rapid image capture with DRX detectors, a 19-inch touch screen monitor and access to advanced features. A DAP and X-ray Generator Interface automatically acquires DAP and technique information to monitor patient dose while eliminating the need for manual entry. In addition, Carestream's DIRECTVIEW software delivers accelerated image display and delivery to PACS or printers.
This imaging system supports DRX-1 and DRX Plus detectors that deliver excellent image quality and DIRECTVIEW software delivers advanced image management features. The Motion Mobile also supports sharing of a DRX detector among multiple CARESTREAM DRX imaging systems to maximize productivity while enhancing a facility's investment.