New 42-inch Touchscreen Gaming Device Features Silver Nanowire Conductive Film from Carestream Advanced Materials
Innovative film enables large, thin device and exceptional user experience
ROCHESTER, N.Y., Feb. 9, 2015 — Carestream Advanced Materials today announced that its innovative FLEXX Transparent Conductive Film is enabling full-scale production of large-format projected capacitive screens, which are being deployed on a variety of gaming devices. Inotouch Technology Company is using FLEXX Transparent Conductive Film to produce a number of touch-panel designs, including a 42-inch touch panel at its manufacturing facility in Yong-in, South Korea.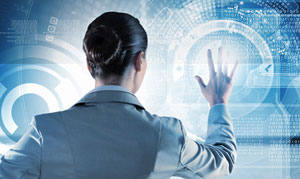 The large device size, coupled with end-user demand for high performance, made FLEXX Transparent Conductive Film a clear choice for Inotouch engineers. "ITO film isn't suited for 42-inch screens. It simply doesn't offer the low sheet resistance required for these types of next-generation devices," said Paul Herro, General Manager for Carestream Advanced Materials. "We designed FLEXX Films specifically for emerging applications with large screens and lightweight construction. So, we're excited to be working with Inotouch on this product line."
While Inotouch engineers wanted to meet customer requirements for weight, size and image quality, they also needed to choose a transparent conductive film that allowed them to meet aggressive manufacturing goals — especially quality, process flexibility and cost.
"Our customers are very sophisticated when it comes to gaming devices. Their requirements are based on their experiences with thin, light and highly reliable smartphones," said Mr. Joseph Jang, doctor of material engineering for Inotouch. "We wanted to replicate that experience with a large-format projected capacitive screen. We also wanted to find a film that offered compatibility with our manufacturing processes and allowed us to meet our yield objectives. FLEXX Film technology meets all of our criteria."
FLEXX Films are constructed using silver nanowire technology, which offers a unique combination of optical performance, cost and flexibility without the brittleness of ITO film. They can achieve very low sheet resistances without sacrificing optical transmittance. ­
"Silver is the most conductive element on the planet. At the nano-scale, it allows FLEXX Transparent Conductive Films to exhibit very low sheet resistance, low haze, extreme flexibility and exceptional light transmission," said Herro. "We're also able to make our films highly affordable because of our roll-to-roll manufacturing process. It's a very scalable, efficient and affordable manufacturing process."
####
About Inotouch Technology Company, Limited
Inotouch is a world leader in the design and production of specialized touch panels for the industrial market. The company, founded in 2000, serves device manufacturers around the world and operates high-volume manufacturing facilities in Yong-in, South Korea. It has quickly become a preferred partner in a variety of markets because of its commitment to quality, performance and value. www.inotouch.co.kr
About Carestream Advanced Materials
We enable the future of touch with a broad portfolio of FLEXX Transparent Conductive Films. Our silver nanowire-based films are designed to streamline manufacturing processes, reduce device costs and improve the end-user experience. Our technology enables advanced applications, including larger displays, single-layer multi-touch functionality, borderless designs, flexible devices and wearable electronics. High-volume production facilities and distribution centers throughout Asia, Europe and the Americas ensure continuous product availability. Carestream Advanced Materials is a division of Carestream, a leader in dental and medical imaging systems, medical IT solutions and X-ray imaging systems for non-destructive testing. The company has more than 7,300 employees worldwide and a service network that covers 150 countries. www.carestream.com/adv-materials