MD Buyline Reports: Carestream's DR Systems Earn Highest Rating for Third Time This Year
Report Recognizes Systems' Reliability and Performance
ROCHESTER, N.Y., Oct. 13  — Carestream Health earned the top rating in MD Buyline's Market Intelligence Briefing™ (Q3 2015) for both portable and room-based digital X-ray systems for the third time this year. Carestream's DRX-Revolution Mobile X-ray System and its D RX-Evolution and DRX-Ascend systems scored high marks from healthcare providers for performance, reliability, installation and service quality.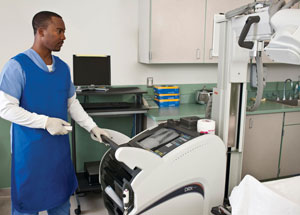 The DRX-Revolution was the highest rated portable system and Carestream also earned the highest rating in the DR (digital radiography) room category.
"This report validates Carestream's longstanding leadership in digital radiography. Our company's fully featured, reliable DR systems are designed to meet the needs of hospitals, clinics, urgent care centers and other imaging services providers across the globe," said Helen Titus, Carestream's Worldwide X-ray & Ultrasound Solutions Marketing Director.
MD Buyline's reports are based on user satisfaction ratings in the following categories: system performance, reliability, installation/implementation, applications training, service response time and service repair quality.
###
About MD Buyline
For 30 years, healthcare providers have trusted MD Buyline for evidence-based clinical and financial insight into medical capital, technology, supplies and services. Staying true to our founding principles, MD Buyline continues to create transparency within the healthcare industry. By providing objective data, we enable hospitals to make informed financial and clinical decisions that are right for their hospital and patients. We serve about half of the nation's hospitals and health systems. For more information, visit www.mdbuyline.com.