Carestream's Latest PACS Platform Elevates the Value of Imaging by Increasing Likelihood of Referrals Using Interactive Reports
New Capabilities Revolutionise Radiology Reporting by Delivering Comprehensive Patient Data and Information to Referring Physicians, Specialists
GENEVA, Switz., February 6 — The latest native Vue Reporting module for Carestream's Vue PACS being showcased at ECR 2015 delivers the ability to insert interactive hyperlinks to access critical images directly from the report. It equips radiologists to embed key images as well as quantitative analysis in the form of tables for vessel analysis or lesion management. Anatomical bookmarks allow users to navigate to these bookmarks directly from the report.Carestream's zero-footprint Vue Motion enterprise viewer equips referring physicians with "one click" access to embedded hyperlinks and bookmarks that allow quick and easy viewing of anatomical regions of interest. Vue Motion enables data sharing so remote physicians can conveniently access 3D/MPR images and non-DICOM data such as video and photos uploaded from a variety mobile devices. The latest PACS is currently available worldwide.
"Revolutionising the radiology reporting process and raising the value of the radiology report are important goals for our company. These improvements provide powerful communication and sharing capabilities to our customers," said Ludovic d'Aprea, Carestream's General Manager for Healthcare Information Solutions. "Enhancing the quality of diagnostic information provided to physicians and specialists can help optimise treatment decisions."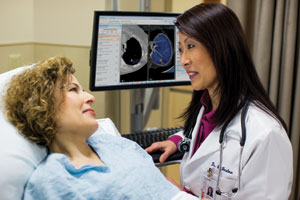 New Model for Teleradiology
Carestream will also introduce its new Vue for Teleradiology module that delivers affordable and efficient off-site reading and reporting by radiologists for multiple healthcare facilities. Vue for Teleradiology allows facilities to send exam requests and supporting exam data via a zero-footprint interface to reporting radiologists without expensive integration. Multi-media reports are automatically delivered back to the requesting facility.
"We created a new model for teleradiology that involves minimal investment by reading radiologists and healthcare facilities," Ludovic d'Aprea explained. "Our teleradiology platform can enable radiology service providers such as hospital-based radiology groups to easily perform remote reading for other facilities. It is also attractive to radiology or teleradiology groups that want to expand the number of providers they service and optimise the sub-specialty expertise available within their groups."
Vue for Teleradiology allows remote radiologists to have access to previous imaging studies and radiology reports as well as other patient information.
He added that Carestream's new PACS platform employs 64-bit architecture, which allows an endless number of images to be loaded, optimises server and client performance, and enhances reporting and teleradiology services, as well as other functions. Many healthcare providers are seeing benefits from multi-faceted PACS platforms that are improving their practices.
As part of Carestream's "Knowing Matters" strategy, Carestream's Vue portfolio of healthcare IT solutions is designed to offer greater value and insight for clinicians, foster collaboration, control costs and streamline dataflow. The company's Vue solutions amplify the clinical, business and IT value of radiology services.
To view information about Carestream products being demonstrated at ECR or to make a booth appointment, please visit www.carestream.com/ecr.