ROCHESTER, N.Y., Aug. 26 — Carestream Health introduced its third generation of DRX detectors that are faster and lighter than previous generations and offer a host of features to help users achieve higher productivity and improved image quality. The new CARESTREAM DRX Plus 3543 and DRX Plus 3543C detectors have received FDA 510(k) Clearance and are available in the United States and Europe. These detectors will soon be available in other countries as they receive local regulatory approvals.
"Our new detectors offer functionality designed to address healthcare providers' current imaging challenges—everything from the need for enhanced image quality to faster availability of the full-resolution image and longer battery life per charge," said Helen Titus, Carestream's Worldwide Marketing Director for X-ray Solutions and Ultrasound. "Our ultimate goal has always been to help healthcare providers enhance patient care."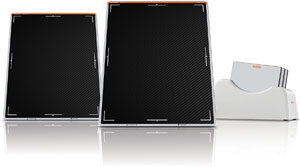 The new detectors offer higher DQE* (detective quantum efficiency) to enable improved image quality and lower dose. In addition, the newly designed detectors can be submerged in one meter of water for 30 minutes without failure, which achieves IPX Level 7 rating for liquid resistance and the IEC standard 60529. A reduced weight and thinner profile allows even easier handling.
Other advantages include:
Fast frame rate provides compatibility with advanced applications in the future
Tri- and bi-color LEDs offer improved feedback of detector status
On-detector calibration file storage means quicker setup of the detector on multiple systems
Faster calibration time, boot time, preview time and full-resolution display time boost workflow; and
Beam detect mode (for room retrofit applications) eliminates the need for cable connection to the generator. Image capture will automatically start when the detector senses the X-ray exposure.
Battery life has been significantly increased in the new detectors to enable more imaging between battery changes and a battery hot swap now allows a quick battery change without a reboot.
Carestream's DRX Plus 3543 Detector is designed for general radiography imaging while the DRX Plus 3543C cesium iodide detector offers benefits for pediatric and other dose-sensitive applications. 
The new generation of DRX Plus detectors continue Carestream's design that enables each DRX detector to work with all other DRX systems within a provider's environment. These detectors also can be inserted into almost any existing X-ray system to deliver enhanced functionality.