Carestream Awarded ISO 27001 Certification for Vue for Cloud Services in Europe
GENEVA, Switz., 28 July—Carestream has been awarded ISO 27001 certification covering the management of information security for the countries in which Carestream has Vue Cloud Services in operation. The certificate is initially valid for three years, with BSI surveillance audits at the end of each year.
The award recognises that Carestream's ISMS (Information Security Management System) for Vue for Cloud is compliant with ISO 27001 requirements and is capable of achieving the necessary security policy and objectives. It also shows that ISMS is efficient and designed for continuous improvement, adding further value to Vue for Cloud installations across Europe.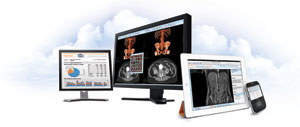 Carestream Vue for Cloud Services is a strategic healthcare information system that delivers simpli­fied, secure, regulatory compliant IT services on a pay-as-you-go basis. Vue for Cloud employs state-of-the-art cloud computing, streamlines workflow, and integrates seamlessly with regional healthcare information systems. Combining Cloud PACS, archive, and share resources provides dependable data protection and transparent access regardless of the source.
Jean-Jacques Grondin, EAMER Vue Cloud Security Officer for Carestream explained: "The Vue for Cloud Information Security Policy document reflects the strategic importance of the ISMS to achieve security objectives and the commitment of Carestream senior management to implement information security across the whole of the organisation." Grondin continued: "It further increases confidence in Carestream, as it shows we care for our customers' business, and that we are committed to protecting patient data."
"This process has been very helpful in helping us to enhance our security management systems," added Grondin.
The ISO 27001 standard is a customer requirement in many European countries, offering cost effective protection against information security threats and vulnerabilities in technical areas but also in support functions such as HR, regulatory and purchasing.
Julien Richard, Business Development Executive of BSI said: "ISO 27001 is an internationally recognised best practice framework for an information security management system. This certification will help Carestream identify the risks to their important information and put in place the appropriate controls to help reduce risk. Information security management gives the freedom to grow, innovate and broaden a customer-base in the knowledge that all confidential information will remain that way."
                                                                  ###
About BSI
Founded in 1901, BSI is the world's first National Standards Body and a founding member of the International Organization for Standardization (ISO). BSI Group delivers a comprehensive business services portfolio to clients, helping them raise their performance and enhance their competitiveness worldwide. With over 72,000 clients in 150 countries, BSI is an organisation whose standards inspire excellence across the globe. 
To learn more about BSI, please visit www.bsigroup.com or about ISO27001 visit : http://www.bsigroup.com/en-GB/iso-27001-information-security/