Illinois Hospital Upgrades X-ray Rooms, Portable Imaging Systems With Carestream's Wireless DRX Imaging Solutions
St. Mary's Hospital Recognized as a Premier QUEST® High Performing Hospital; Also Earned Partnership for Patients Citation of Merit Award
ROCHESTER, N.Y., March 31 — St. Mary's Hospital (Centralia, Ill.) recently upgraded two X-ray rooms and one mobile X-ray imaging system to wireless DR technology with CARESTREAM DRX-1 Systems and CARESTREAM DRX-Mobile Retrofit Kits as an affordable way to achieve high-quality DR imaging.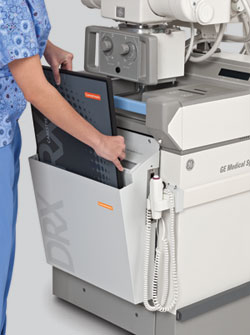 "These Carestream imaging systems offer excellent image quality, are easy to use and make it possible to transition an X-ray room or portable unit from CR to DR technology in as little as one day," said Michael Bratcher, the hospital's director of radiology.
"Our physicians, medical director and radiology staff recognize the benefits of delivering immediate access to high-quality X-ray images. Carestream's software also offers visualization of tubes and lines in addition to high-quality images that help radiologists and physicians diagnose each patient's condition," he reported.
Service was also an important consideration in the purchasing decision. "Carestream provides responsive service and support both before—and after—the sale," according to Bratcher. "Anytime I have a question or concern, I can call our sales representative, Carestream's applications team or the support desk and get an answer in minutes. That's really important to me."
Hospital Receives Premier Award
St. Mary's Hospital was named a Premier QUEST® High Performing Hospital and earned a Partnership for Patients Citation of Merit Award from Premier for delivering outstanding patient care while maintaining a high standard of clinical excellence. Premier is a leading healthcare improvement company, uniting an alliance of approximately 3,000 U.S. hospitals and 110,000 other providers to transform healthcare. St. Mary's Hospital has been listed multiple times as a Top Performer on Key Quality Measures® for heart attack, pneumonia, and surgical care by The Joint Commission, a leading accreditor of healthcare organizations in the U.S. The hospital uses evidence-based clinical care processes that are closely linked to positive patient outcomes. St. Mary's also was spotlighted by HealthGrades for its Critical, Pulmonary, Neuroscience and Cardiac Care. 
Carestream offers fully featured room-based and mobile DRX imaging systems that equip healthcare providers to easily and affordably upgrade existing film or CR systems to DR. Carestream's X-Factor design offers flexibility and redundancy by enabling each DRX detector to work with all other DRX systems within a provider's environment.
###
About St. Mary's Hospital 
St. Mary's Hospital in Centralia, Ill., is part of a Joint Operating Agreement with Good Samaritan Regional Health Center of Mt. Vernon, Ill. They are co-sponsored by Felician Services of Chicago, Ill., and SSM Health Care of St. Louis, Mo. SSM Health Care is a Catholic, not-for-profit health system located in four Midwest states. Its merger with the Wisconsin-based Dean Health Systems transforms SSM into a large integrated delivery system with networks in each of its regions. SSM Health Care serves the health needs of communities across the Midwest through one of the largest integrated delivery systems in the nation. For more information on St. Mary's Hospital, visit http://www.smgsi.com.