MOUNTAIN VIEW, Calif. — July 9, 2015 —Frost & Sullivan recognizes Carestream Non Destructive Testing (NDT) with the 2015 Global Frost & Sullivan Award for New Product Innovation for its HPX-PRO Portable CR System, based on recent analysis of the computed radiography (CR) industry.
Carestream's lightweight HPX-PRO system is designed for digital X-ray imaging in rugged NDT environments. It can be set up in less than five minutes and produces high-quality digital images for quick analysis and rapid reporting.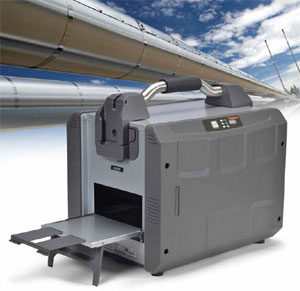 "Carestream NDT has done a great job of understanding customer needs in the NDT industry and developing an innovative new product to address those needs," said Frost & Sullivan Global President & Managing Partner Krishna Srinivasan. "Its HPX-PRO is uniquely positioned for sustained success because it addresses the core issues that customers care about—quality, functionality and reliability."
In 2009, Carestream NDT delivered an industry-defining product, HPX-1, which received the 2012 Frost & Sullivan Product Innovation Award. Now in a repeat performance six years later, the HPX-PRO system helps users make a seamless transition from film radiography to digital radiography.
Frost & Sullivan notes that portability and productivity are critical for use in rugged environments. At 35 pounds, the HPX-PRO system is the lightest CR scanner commercially available. It is packaged as a full and integrated system, which boosts productivity by improving the workflow from job setup to report generation. Its new setup screen organizes customer information, part descriptions, inspection technique reviews, weld numbering, as well as upload reports in 10 minutes. HPX-PRO's software allows users to create templates of commonly used reports and populate them with corporate logos and fields they require.
Carestream NDT has designed HPX-PRO to be robust enough to be deployable in rugged environments. The HPX-PRO possesses a replaceable air filter and vent to ensure that the air is clean and adequately circulated inside the scanner. Furthermore, it features a fold-up entry and exit door with extensions that are held closed by a magnet to keep the HPX-PRO dust- and dirt-free.
"Carestream's focus on filling the niche for a digital alternative to film radiography in narrow-width applications has paid off handsomely, with the HPX-PRO finding immediate and widespread acceptance," noted Frost & Sullivan's Principal Lead Nikhil Jain. "The HPX-PRO not only provides imaging capabilities comparable to film, but is also highly portable."
Finally, Carestream NDT is redefining customer service in the global CR market. Two months after the launch of the product, the company received the highest possible ratings on its customer satisfaction surveys for the HPX-PRO's design, value and functionality, and for its training.
Frost & Sullivan Best Practices Awards recognize companies in a variety of regional and global markets for demonstrating outstanding achievement and superior performance in areas such as leadership, technological innovation, customer service and strategic product development. Industry analysts compare market participants and measure performance through in-depth interviews, analysis and extensive secondary research to identify best practices in the industry.
****
About Frost & Sullivan
Frost & Sullivan, the Growth Partnership Company, works in collaboration with clients to leverage visionary innovation that addresses the global challenges and related growth opportunities that will make or break today's market participants.
Our "Growth Partnership" supports clients by addressing these opportunities and incorporating two key elements driving visionary innovation: The Integrated Value Proposition and The Partnership Infrastructure.
The Integrated Value Proposition provides support to our clients throughout all phases of their journey to visionary innovation including: research, analysis, strategy, vision, innovation and implementation.The
The Partnership Infrastructure is entirely unique as it constructs the foundation upon which visionary innovation becomes possible. This includes our 360 degree research, comprehensive industry coverage, career best practices as well as our global footprint of more than 40 offices.
For more than 50 years, we have been developing growth strategies for the global 1000, emerging businesses, the public sector and the investment community. Is your organization prepared for the next profound wave of industry convergence, disruptive technologies, increasing competitive intensity, Mega Trends, breakthrough best practices, changing customer dynamics and emerging economies?