Carestream Demos Ability for Enhanced Identification And Exchange of Patient Clinical Data at HIMSS Conference
Company's Affordable, Modular Approach Delivers a More Comprehensive View Of Patients' Clinical History to Radiologists, Clinicians
ROCHESTER, N.Y., April 7 — Carestream's new Clinical Collaboration Platform, which will be demonstrated at the upcoming HIMSS Conference, allows providers to identify and share diverse patient clinical data to help clinicians make diagnostic and treatment decisions. This data can also be shared with patients during consultations.  
"One of the biggest challenges facing healthcare IT today is the vast amount of data that exists in siloed systems that limit accessibility. This type of infrastructure increases costs and makes it difficult to access clinical data, which impedes the quality of diagnostic services," said Ludovic D'Aprea, Carestream's General Manager for Healthcare Information Solutions. "Consolidating storage devices with a vendor-neutral archive is a good foundation, but the challenge is to deliver better access and management of unstructured data so that a comprehensive view of patient data can be maintained and distributed to authorized users."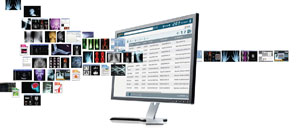 Carestream's Clinical Collaboration Platform can be integrated as modules within a provider's existing IT ecosystem. "Using the latest interoperability standards allows data to be aggregated, which creates a holistic view of the patient. This can also mitigate the need for expensive data migration from older systems by federating multiple devices," he adds.  
A vendor-neutral archive (VNA) links radiology, endoscopy, pathology, cardiology, lab results and other forms of data. Carestream's flexible Clinical Collaboration Platform can complement a provider's existing departmental PACS or archive and offers a series of optional modules that can bring unstructured data into the clinical workflow and enhance the delivery of patient images and reports to clinicians—and to patients.
Modules for Carestream's Clinical Collaboration Platform include:
A web-based data ingestion module that searches and "tags" unstructured data at the metadata level so it can be associated with a specific patient and the type of clinical content in the data can be identified. Unstructured data may reside in departmental systems or multiple PACS systems and can include photos (such as dermatology), videos (such as surgery or endoscopy), and ECG waveforms. If healthcare systems serve patients with multiple identification numbers from different sites, all the data for each patient can be consolidated. Carestream also uses interfaces including XDS adapters, HL7, DICOM, file share and web services such as Fast Healthcare Interoperability Resources (FHIR).
Physicians can access current and prior reports and imaging studies, along with a patient's clinical history from FDA-approved mobile devices using Carestream's universal Vue Motion viewer. Mobile access is a tremendous advantage to physicians who are often on the move doing patient rounds at a hospital or moving between patient rooms at a group practice, clinic, imaging center or urgent care facility.
An embeddable patient portal equips registered patients to view, download and manage their own clinical data.
A real-time business dashboard module is offered to address healthcare IT executives' need for more intelligent data analytics to help streamline operations and compliance. 
All of these new capabilities build upon Carestream's fully featured VNA architecture. InMedica, a division of IMS research, has recognized Carestream as one of the largest suppliers of vendor-neutral archiving in the world.
To view information about Carestream products being demonstrated at HIMSS or to make a booth appointment, please visit www.carestream.com/himss.