Digital X-ray Technology Delivers Rapid Access to Diagnostic Images of Football Players at 2015 NFL Combine
NFL Teams and Professional Sports Organizations Worldwide are Adopting Company's Digital X-ray Systems to Help Diagnose Player Injuries
ROCHESTER, N.Y., Feb. 17 — Speed matters. It's a competitive advantage for football players at the 2015 National Football League Scouting Combine—and it's also important for the medical X-ray exams that are part of physical examinations conducted during the Combine. This year a CARESTREAM DRX-1 detector will be used with the existing X-ray system at Lucas Oil Stadium (Indianapolis, Ind.) to produce high-quality diagnostic images in seconds.
More than 300 athletes will undergo complete physicals as part of their evaluation at the Combine where top college football players perform physical tests for evaluation by NFL coaches, general managers and scouts who are preparing to draft new players.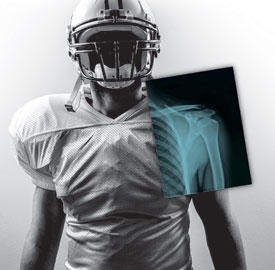 Multiple NFL teams—and other sports organizations worldwide—are currently using Carestream's advanced digital radiology products to diagnose player injuries.   
Carestream is also developing new 3D medical imaging systems that could be used in diagnosing recreational sports enthusiasts of all types and professional athletes. Carestream and UBMD Orthopaedics & Sports Medicine announced a research partnership in October 2014 to collaborate on development of a new 3D imaging system for capturing orthopaedic images of patient extremities (knees, legs, feet, arms and hands).
"We are working closely with leading radiologists, physicians and athletic trainers that specialize in orthopaedics and sports medicine to develop new diagnostic imaging products that will offer valuable features and benefits to patients and care providers," said Diana L. Nole, President, Digital Medical Solutions, Carestream. "Our goal is to continuously expand our portfolio of diagnostic imaging systems, and we will add new offerings designed to significantly improve care for athletes and active people in our communities."
Physicians from UBMD Orthopaedics & Sports Medicine are working with Carestream researchers to conduct clinical studies initially focused on the advantages of using cone beam CT (CBCT) technology in the diagnosis and treatment of knee injuries.
Imaging systems based on CBCT technology for use in treating orthopaedic conditions—including traumatic injuries, joint replacements, arthritis and osteoporosis—can be lower in cost and use less radiation than today's full body CT systems. This new digital technology is designed to provide the ability to capture weight-bearing images of knees, legs and feet, which are of particular interest to orthopaedic and sports medicine physicians and are not available from traditional CT systems.
Carestream showcased its innovative digital radiography systems and CBCT research at the Professional Football Athletic Trainers Society show held annually in conjunction with the NFL Combine in Indianapolis, Indiana. The company also will spotlight its imaging technology at the American Association of Orthopaedic Surgeons conference in March.