Carestream Health Developing New 3D Orthopaedic Imaging System for Enhanced Imaging of Extremities
Company Working with Orthopaedic, Sports Medicine Specialists on Design for New Cone Beam CT System
Carestream is partnering with leading orthopaedic and sports medicine specialists to develop a new three-dimensional medical imaging system (investigational - not available for commercial sale) for capturing images of patient extremities (knees, legs, feet, arms and hands). Initial clinical studies will focus on the advantages of using cone beam CT (CBCT) technology in the diagnosis and treatment of knee injuries. This system is designed for use by orthopaedic surgeons, who are meeting this week at the annual American Academy of Orthopaedic Surgeons conference.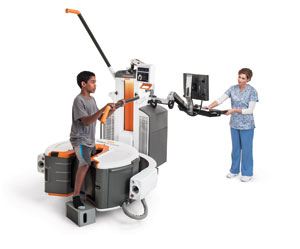 Imaging systems based on CBCT technology can be used in treating orthopaedic conditions. Carestream's new CBCT system is designed to provide weight-bearing images of knees, legs and feet, which are difficult to obtain.
"We are focused on applying CBCT technology for extremity imaging because it offers excellent visualization of soft tissue and bone with systems that are smaller and more affordable than CT systems," said Diana L. Nole, President, Digital Medical Solutions, Carestream.
Carestream's new extremity system may be adopted for use in urgent care facilities and clinics, athletic training facilities, and orthopaedists' and other specialty practice offices.
"This system could make it easier to obtain diagnostic exams immediately following an injury and help improve evaluation and treatment," Nole explains.
Nole adds that Carestream is working with top orthopaedic care providers and leading sports medicine experts to help guide current and future product development initiatives. The company's development efforts include an agreement forged two years ago between Carestream and the Buffalo Bills with the goal of aiding Carestream's understanding of the use of advanced medical imaging technology in early detection and monitoring of player injuries. This partnership continues to focus on the need for new technology to help address key concerns in sports medicine.