Chicago Area Hospital Installs Nine DRX Detectors in Existing X-ray Systems to Speed Image Access
Detectors Shared among Portable Systems and X-ray Rooms to Maximize Workflow, Productivity
ROCHESTER, N.Y., Sept. 16 — AMITA Health Alexian Brothers Medical Center (Elk Grove Village, Ill.) installed nine CARESTREAM DRX-1 Detectors to achieve rapid image access using existing portable and room-based X-ray systems. The 304-bed facility is converting from computed radiography to wireless digital radiography.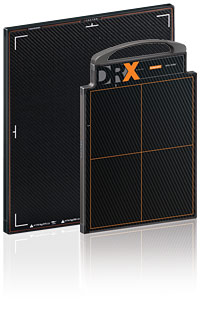 "With these detectors, images are available for review by physicians and surgeons in seconds, which enables them to make immediate patient care decisions. The timeliness of radiology reports also has improved," said Steven Jung, the hospital's Radiology Director. "In addition, converting to DR technology provides us with excellent image quality while reducing exposure techniques for portable and room-based exams."
Jung says he appreciates the ability of Carestream's detectors to move easily between multiple systems as needed throughout the day. "We conduct 20,000 portable exams a year and most of those images are performed during the early morning hours. We have the ability to use detectors from portable systems in room-based systems to further enhance imaging of complex exams and speed workflow."
The hospital installed DRX-1 detectors in four portable imaging systems and implemented dual detectors in its two X-ray rooms that serve its busy ER. It also uses a small-format CARESTREAM DRX-2530C cesium iodide detector to further reduce dose for NICU and pediatric patients.
Payback on the investment in detectors was less than one year, according to Jung. "We have cut imaging time for portable exams in half, which saves more than 150 hours a month. This enables technologists to perform exams in other areas and achieve improved productivity."
He adds that "Carestream's service and support has been exceptional during the last five years and is a major reason our facility has standardized on Carestream detectors and plans to use them in the future."
                                                                        ###
About AMITA Health
AMITA Health (AMITAhealth.org) is an integrated health system serving communities in western and northwestern suburban Chicago. AMITA Health is a Joint Operating Company formed in February 2015 by Adventist Midwest Health, based in Hinsdale, Ill., and Alexian Brothers Health System, based in Arlington Heights, Ill. It encompasses nine hospitals and an extensive physician provider network of more than 3,000 physicians. AMITA Health is committed to delivering the most efficient, highest quality, faith-based care possible and respecting the faith traditions of all people.